Shortly before the Lord appeared into this world many wonderful and mysterious things happened at the house of Jagannath Misra and his wife Sachi-Devi who became the parents of Sri Chaitanya Mahaprabhu. The Lila of the Lord was already taking place.
Jagannath Misra said to Sachi-Devi: "I see such wonderful things happening before me. Your whole body is glowing; it is as if the Goddess of Fortune herself is staying in my house. Wherever I go people greet me and show me respect and, without even asking anything, they give me things, like clothes and rice."
Sachi-Mata said to her husband: "I too see wonderful things happening. Radiant beings appear in the sky and it is just as if they come here to pray." Then Jagannath Misra told his wife about a dream he had had: "I saw how the brilliant world of the Lord entered into my heart and was then transferred from mine into yours."
Full of joy they worshiped the Lord in His form as Salagram Sila together in their house.
In the year 1407 in the month of Phalguna, during an eclipse of the moon, Lord Sri Krishna in the form of Gaurahari, the Golden Lord, came into this world.
During this night all the devotees went to the holy River Ganges to bathe and sing loudly the Holy Names of the Lord. Sri Advaita Acharya started to dance automatically in Santipur and he took Haridas with him and they loudly sang and danced together.
There was great happiness in the air, everyone could feel it.
Some Brahmins came to the house of Jagannath Misra and when they saw the child, Who radiated like molten gold, they were so happy and they immediately blessed the child.
The wives of Lord Brahma, Lord Siva, Lord Nrsimhadeva, Lord Indra and other demigods had come as well. They had dressed themselves as the wives of Brahmins and they came to the house to bring presents for the Lord. Jagannath Misra and Sachi-Devi were so very happy because in their house a child was born who would free all the three worlds.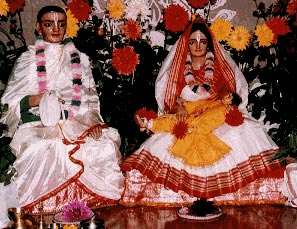 Sri Jagannath Misra and Sachi-Mata with baby Nimai