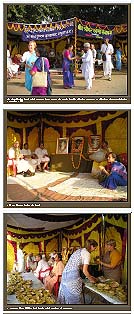 Sri Sri Guru Gauranga Jayatah!
Dear Respected Godbrothers/Godsisters & Friends,
Please accept my earnest dandavat pranam,
Under the direction and shelter of His Divine Grace Srila Bhakti Sundar Govinda Dev-Goswami Maharaj, we would like to humbly invite the aspiring devotees of our Sri Chaitanya Saraswat Math & Mission to participate in the sixth annual Govardhan Food Relief / Mass Prasadam Distribution Program. By the Grace of Srila Gurudeva this service program offers a very unique and holy service opportunity.
As described by Srila Guru Maharaj, Sri Giriraj-Govardhan Ji has mercifully sheltered our Sri Chaitanya Saraswat Maths and continues to share His Mercy with all the aspiring devotees. In Braja-lila Lord Krsna shelters His exclusive devotees from the wrath of Indra demonstrating His great love for His exclusive dependants and the worthlessness of other so-called religious activities. Srila Govinda Maharaj describes ananya-bhakti as "the exclusive absorption in the service of Sri Gurudeva." By aspiring towards this example of Srila Gurudeva we may be doubly blessed, first and foremost by the prospect of satisfying our beloved Gurudeva and second by the Lord Himself, Who, seeing our eagerness to serve His Potency, may grant the confidence of His protection for our distributing-practicing life as was demonstrated by the lifting of Govardhan Hill. raksisyatiti visvaso (confidence in the Lord's protection, the 3rd limb of surrender).
In Puri Dham Sri Giriraj-Govardhan manifests as Chatak Parvat and in Nabadwip Dham, and most importantly for us, as Gupta-Govardhan the area of our central Sri Chatanya Saraswat Math. Srila Guru Maharaj explains:
kuliya gramete asi sri krsna-chaitanya
hena nahi, ya re' prabhu na karila dhanya

"At Koladwipa the Govardhan Hill of Vrndavana, concealed in Nabadwip Dham, the Most Generous Absolute expressed Himself in His maximum generosity. Without considering any crime. He absolved whoever He found. He accepted them all. After sanyasa, when He returned to Bengal with the intention of going to Vrndavana, He showed His most generous and dignified temperament at that time. He recruited the sinners of the world. Anyone who came to Him received the highest mercy. This is the specialty of this place. By 'place' we should not think of a mere geographical location."
That 'place' of Divine Consciousness where Divinity, in the most magnanimous mood distributes Himself to one and all indiscriminately that is truly the department of mercy. And Sriman Mahaprabhu has given that 'place' as the shelter of our Sri Chaitanya Saraswat Math. Self dissipation through distribution opens the channel of that magnanimous flow into our lives, revealing Love as our true nature and selflessness as the key to our true selves.
Last year The Brajabasis told the devotees that Giriraj was smiling to see the distribution as 11,500 plates of Prasadam were freely distributed to pilgrims circumambulating Sri Govarddhan Hill on the holy day of Sri Govarddhan-puja. Srila Govinda Maharaj was very pleased to receive this news, and expressed his wish that this annual Prasad distribution program "may continue eternally."
Please join us this year in this active celebration of Gurudeva and Mahaprabhu's mercy.
Tax-deductible contributions for this seva program can be made directly on-line through Pay Pal at the Global Service Foundation Web Site at: globalservicefoundation.org
Checks and money orders are also gladly received via conventional mail at:
Global Service Foundation
343 Soquel Ave. Suite 87
Santa Cruz, CA 95062,
USA
Thank you for your support, and again, my heartfelt dandavat pranam to all the worldwide family of devotees.
Aspiring in service to Sri Sri Guru Gauranga, Sri Sri Anu Giriraj,
and the Sri Chaitanya Saraswat Math,
Mathuranath das

Global Service Foundation, Inc. / The Golden Road
741 Lincoln St.
Eugene, OR 97402
USA
Tel: 541-434-1008