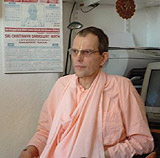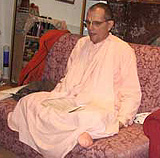 It is with a feeling of heartfelt separation that the devotees received the news that His Holiness Sripad Bhakti Sampat Madhusudan Maharaj passed away from our vision into the infinite care of our most merciful Lord Sri Krishnachandra at 1am on Monday 31 January 2005.

His Holiness joined the International Society for Krishna Consciousness in 1974 inspired by the teachings of Srila AC Bhaktivedanta Swami Maharaj. In 1978 he had the darshan of Srila Sridhar Maharaj and later accepted Srila Bhakti Sundar Govinda Maharaj as his Spiritual Master in 1989 receiving both Harinam and Gayatri Diksha form His Divine Grace and receiving the spiritual name, Mukunda Das. In 2004 he received the order of tridandi sannyas from Srila Govinda Maharaj.

As Mukunda Prabhu, Sripad Maharaj had three sons: Sebastian, Lila Sundar and Krishna Bandhu. With his devoted wife Anjali, he spent most of the late 80s and 90s serving Srila Govinda Maharaj's UK Mission as a fund-raiser and contributed the main part of the deposit for our London Green Street Math. Despite of ill health and having to use a walking cane His Holiness continued with this service as well as raising his family until he was physically unable to do so. After retiring form his working life he spent ever increasing periods of time at the lotus feet of Srila Govinda Maharaj in India and sometimes accompanying him to various places on his world tours. Finally feeling a deep inner need to devote himself fully to his master, Mukunda Prabhu entered into the sannyas ashram and became Bhakti Sampat Madhusudan Maharaj.

Shortly after his return from India to the UK in 2004 His Holiness was diagnosed as having cancer of the liver. The prognosis was terminal. Despite this he continued to maintain an optimistic and hopeful attitude, regularly attending preaching engagements, taking part in the Math programmes, meeting with the devotees and giving his association to all.

Sripad Madhusudan Maharaj had deep faith in the service of Sri Sri Guru-Gauranga and had genuine love for Srila Govinda Maharaj and the Vaishnavas. All those who knew him had great affection for him and he was loved by the devotees from all corners of the world. He was the quintessential English gentleman, moreover he was a devotee of Sriman Mahaprabhu. With great humour, charm, dignity and concern for all, he lived his life always aspiring for the service of the Sri Chaitanya Saraswat Sampradaya. I feel blessed that he counted me as one of his friends, and I know that he will be greatly missed and his passing mourned by devotees from around the globe.

During his final hours he had slipped into a coma and it was during this time that Srila Govinda Maharaj spoke into his ear via the telephone from the Seva Ashram in Soquel USA. A few hours later, with what can only be described as a smile of contentment, in the company of loving devotees and hearing the kirttan of Lord Hari, Sripad Madhusudan Maharaj departed this mortal world.

With our most sincere prayer we trust that his journey to the lotus feet of Sri Sri Guru Gauranga Gandharvva Govindasundar and Their associates in the holy land of Braja will be a swift and happy one. Param Vijayate Sri Krishna Sankirttanam.
---