Report: The Mana River Raft Festival

by Sripad Bhakti Premik Siddhanti Maharaj

With accompanying series of pictures
---

The last week of June the devotees from Russia participate in a river-raft festival held each year outside Krasnoyarsk, a city in central southern Siberia. They, as well as many other local residents, construct rafts and float down the Mana River for three to four days beginning at points miles away from the city and ending at points near the city. This year they invited me to attend as Sripad Avadhut Maharaj couldn't attend, so I flew from Moscow with my interpeters, Ashutosh Krishna Prabhu and Katyani d.d. We were met at the airport by our Math's leader for that area, Haridasi d.d., and other devotees and taken to an apartment where devotees were gathered and we all honored prasadam together.
The next day all of us devotees took a six hour bus ride out of town through the beautiful green and sunny Russian countryside dotted with small villages where residents sell by the side of the road fresh milk, butter and cheese as well as vegetables and fruits from their gardens. We travelled to a point deep in the Siberian forest, to where the festival began.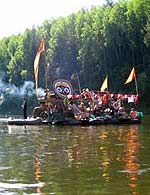 The first day we arrived, there weren't many people but by the next day many came to build rafts and prepare to float down the Mana River celebrating the great Russian outdoors, the warm weather, the Siberian forest, the land, the rivers and the need for everyone to get outdoors in the warm summer to have a good time. The next day was the official day to begin so we and hundreds of others launched our rafts and began the long journey down the river and back to town. It was a wonderful experience as all the devotees were very much enlivened to be with each other, to make new acquaintance and to have kirtan, Hari katha and prasadam together for four days and nights.
Each night we camped on the bank of the river, cooked prasadam and daily took our bath in the river. Most of the rafts that we would pass or that would pass us were happy to see and hear our chanting and would greet us with some dancing or by saying, "Hare Krishna!" or in some way acknowledging us like waving, etc. It was a very enjoyable experience and I hope these pictures tell a little of the story of the wonderful Mana River raft festival.
With my dandavat pranams to all the devotees,
- Siddhanti Maharaj
Accompanying series of pictures