New Zealand Travel Diary, 2005
Sripad Bhakti Swarup Tridandi Maharaj reports from Christchurch,
7 September 2005
---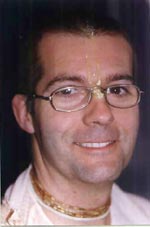 After changing planes in Auckland, coming from Singapore, I arrived at the domestic Terminal of Christchurch Airport having passed over part of the spectacular Southern Alps before landing. I was met by Saranga Murari and Ananda-vardhan Prabhus and in pleasant spring sunshine we drove the one and a half hours to Daisy Meadow, the farm which is presently serving as our Ashram in the South Island. There we were also greeted by Prajadhara Prabhu who lives nearby.

The farm is a series of buildings on sixteen acres owned by Frasier who is an aspiring devotee involved with ecological living, presently with his family in Crete; as such it is extremely wholesome and pleasing, though simple. Everything is made of wood of different kinds; the two main pillars of the main house are whole tree-trunks, as they are. The spring water is pure, the air very fresh and the farm is situated in the lee of the Southern Alps near Mt. Hutt (the area featured in a successful recent film, 'Lord of the Rings'). It has two longhorn cows, three horses, an alpaca and assorted cats, dogs and fowl. Inside, the house even boasts a hot shower fired by a wood-burning stove. After a couple of days, Lalita Madhava Prabhu joined me from Singapore and we have been trying to do seva for the devotees here. We were kindly offered the room adjoining the Temple room, for our stay.

As it is only spring, the air is cold mornings and evenings though pleasant in the day. Most evenings we have a programme in the house with various guests and friends attending. One evening also we went across the fields to visit Nandiki Prabhu, a devotee from Guyana who has lived in NZ for twenty years, his three children were born and raised here. He lives in a school he bought at a good price, and he works with the local dairy herds and various animal husbandry. Nandiki Prabhu has made a nice Temple room where we offered arati to Sri Sri Gaura-Nitai. Jagat-atma Prabhu, a disciple of Srila Swami Maharaj, was there with his family. At night out here it is quite silent and very dark; the nearest town, Stavely, is several miles away. So carrying pots and pans from the farm, with the wonderful cooking of Ananda-vardhan Prabhu, over barbed-wire or electric fences at night through fields with bulls possibly lurking, with only a hand torch, was an interesting experience. (The car was not available at the time.)

In the day we often go into town, that is Christchurch, for preaching. It is a small city boasting the moderately famous main square overlooked by the Cathedral, modelled on the Priory in Christchurch England. We visited also Govinda's Restaurant run by Iskcon and had a good rapport with the devotees there. People here are generally kind and well disposed; life is a bit slower and simpler than in the big cities of Europe, US, etc. so they are quite receptive and will happily take a book or chat for a while. At least they don't seem to suffer the baggage of so many preconceptions of what religion or spirituality is supposed to be about, or so it seems to me.

The country has a strict policy however regarding health issues as they don't want plagues and epidemics to enter through foreign plants, soil, or animals thus avoiding the ravages that have been suffered elsewhere ('mad cow' disease, etc.). In general people are quite health-conscious; now they only need to become Krishna-conscious. Srila Govinda Maharaj mysteriously commented on his first trip here (it was to the North Island actually; 76% of the 4 million population live there) that New Zealand had been Krishna-conscious in the past and would be so again. He said the land and the cows reminded him of Vrindavan. He also humorously said there was only one thing which scared him in this world and that was the 'haka,' the fierce dance performed by the indigenous Maori warriors with their weapons and 'moka' (face tatoos) with which he was ceremoniously greeted at the Airport. (He kindly also responded in kind to the traditional greeting of touching nose, forehead and chin, signifying 'Now we are as one,' on that occasion.)

This land, Aotearoa, the 'land of the long white cloud' is beautiful and unspoiled still and the pace of life is such that 'simple living and high thinking' is actually possible in today's fast-paced world. To me this has been a revelation.
- BS Tridandi Swami