---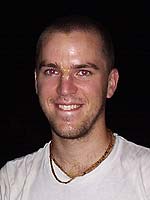 Report by Kamal Krishna Prabhu, a university student from California, currently on pilgrimage in India.
---
On Tuesday September 20th, a small group of devotees headed by Sripad Acharyya Maharaj left the Sri Chaitanya Saraswat Math, Nabadwip, around 8am to make a trip to the recently acquired Sri Chaitanya Saraswat Math in Siliguri, a lively town at a cross-roads of cultures and countries in North Bengal. Unbeknownst to us there was a bus operator strike and the long distance direct bus we were planning to take was not running that day. But without hesitation we boarded a local bus and went on our way. I can say for myself as a foreigner, I didn't really piece together the situation until the day unfolded. It turned out to be a long trip.
As a brief summary, we arrived in Siliguri a little after midnight no worse for the wear after sixteen hours of travelling which included two heavy lightning storms, four different buses and a few hundred kilometres of 'unpredictable' roads.
The devotees had stayed up waiting for us and after an affectionate welcome immediately served us sumptuous prasadam. Punyasloka Prabhu, Visvanath Prabhu and Visvarupa Prabhu graciously accommodated us during our stay, and the words of Srila Bhaktivinoda Thakur come to mind, "Bhakata-seva, parama-siddhi, prema-latikara mula." (Service to the Vaisnavas is itself the supreme perfection and the root of the tender creeper of divine love.)
Their enthusiasm as a small group for their service in this new Centre was inspiring. The next three evenings Sripad Acharyya Maharaj preached forcefully and led fervent kirtans. I can say I was pleasantly surprised that during the nights of his stay there was an attendance of over forty which overflowed beyond the capacity of the cosy temple room. Kamal Indu Prabhu and Chinmoy Prabhu travelled to the Siliguri Ashram with us to take up residence there and engage in some undoubtedly appreciated service in this small community. Kamal Indu Prabhu's charming personality is well suited to the collection efforts he quickly initiated, and with the addition of these two devotees the Ashram seems to be in capable hands.
Jaya Om Visnupada Srila Bhakti Sundar Govinda Dev-Goswami Maharaj, ki jaya!
Sripad Bhakti Nirmal Acharyya Maharaj ki jaya!
Sri Chaitanya Saraswat Math, Siliguri, ki jaya!