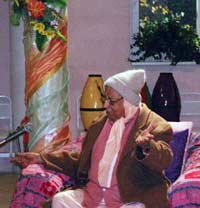 I had the good fortune of being in Russia for nineteen days, travelling to the transcendental temples of Moscow and Saint Petersburg. Srila Bhakti Sundar Govinda Dev-Goswami Maharaj graced hundreds of souls during the festivals that we celebrated during Karttik. On Srila Bhakti Raksak Sridhar Dev-Goswami Maharaj's Appearance Day on October 15th, Srila Govinda Maharaj spoke in the morning in a temple room that held hundreds of eager listeners to hear glorification and the Pastimes of our glorious Srila Guru Maharaj. All of us were able to offer flowers to a brilliant picture of Srila Sridhar Maharaj. Bhajans echoed throughout the morning glorifying the Supreme Lord and the exalted Vaishnavas.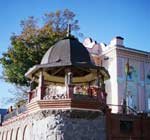 The aspiring Russian devotees show so much devotion and dedication and it was nourishing to my heart to observe such tolerance and humility. When Srila Govinda Maharaj said that Avadhut Maharaj has created a miracle in spreading Krishna consciousness in Russia, the enthusiasm and dedication I saw is something I will always remember and aspire for. Even though everyone predominately spoke Russian, a smile would break and we felt a connection amongst each other.
The Govarddhan Puja celebration lasted three days, October 21-23rd. The glorification of this day was non-stop: offerings of three Govarddhan Hills, Indian dancers, a sitar player, and a man from China who came and played his bamboo flute as an offering to Srila Govinda Maharaj. Srila Govinda Maharaj also watched a children's theatre, performed for him with devotion, and hundreds joined Srila Gurudev to watch slide shows in the temple room of many holy places throughout India.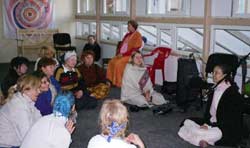 Sannyasis and exalted souls from all over the world graced everyone with informal darshans, and classes took place in the temple room and darshan hall in Russian and English. 'Ladies only' classes were given by Bhakti Lalita Devi Dasi; and Rohini Shakti Devi Dasi from Brazil also gave hatha yoga classes to those who were interested.
October 26th marked His Divine Grace Srila A.C. Bhaktivedanta Swami Maharaj Prabhupad's Disappearance Day. I was able to be of some use along with Srilekha Devi Dasi from London in cooking some special preparations for Srila Prabhupad. Srila Govinda Maharaj spoke in the morning about Srila Swami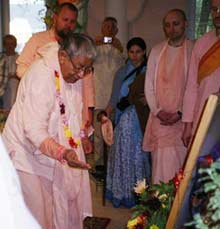 Maharaj in the darshan hall. Hearing about Srila Prabhupad from Srila Govinda Maharaj is always a highlight; he had such close association with a pure devotee without whose mercy the Western world would be in complete darkness.
A small altar was set up in the temple room where we had kirttan and offerings of flowers to His Divine Grace Srila A.C. Bhaktivedanta Swami Maharaj Prabhupad. Srila Govinda Maharaj also came in the evening in the temple room and spoke once more, continuing stories from the morning. The evening ended in melodious bhajans. The day was totally surcharged with memories of Srila Prabhupad, and I did not want it to end.
The afternoon before leaving Russia on the 29th of October I took the eight hour train ride back to the Moscow temple. I am so grateful to Vijay Raman Prabhu, Sripad Avadhut Maharaj and the assembled devotees there in Russia for allowing this insignificant soul to experience the heart fulfilling time I had while visiting the Moscow and St. Petersburg temples.
Begging to remain at the feet of Srila Govinda Maharaj and the Vaishnavas,
Maladhari Devi Dasi
Portland Oregon, USA