Srila Gurudev spoke on this most holy occasion:
Today is a very auspicious and fortunate day for sincere seekers and the devotees and the people of this world. So many incarnations we can see in India -- Matsya, Kurma, Varaha, Vamana, etc., and also Krishna-Balaram, Dasavatar, but the hidden treasure was given by Sri Krishna Chaitanyadev to this world, what was not before given in this world. Not only that, it was nowhere given before. That was mentioned by Srila Rupa Goswami Prabhu in his sloka,
anarpita charim chirat karunayavatirnah kalau
samarpayitum unnatojjvala-rasam sva-bhakti-sriyam
harih purata-sundara-dyuti-kadamba-sandipitah
sada hrdaya-kandare sphuratu vah sachi-nandanah
"May the Supreme Lord who is known as the son of Srimati Sachi Devi be transcendentally situated in the innermost chambers of your heart. Resplendent with the radiance of molten gold, He has appeared in the Age of Kali by His causeless mercy to bestow what no incarnation has ever offered before: the most sublime and radiant mellow of devotional service, the mellow of conjugal love."
Today is the appearance day of Sachinandan Gaurahari, the non-different form of Radha-Krishna; the combined form of Radha-Krishna, Sri Sachinandan Gaurahari. There is an incarnation of the Lord in every yuga; that is called the yugavatar. Every yuga has a Maha-avatar, yuga-avatar.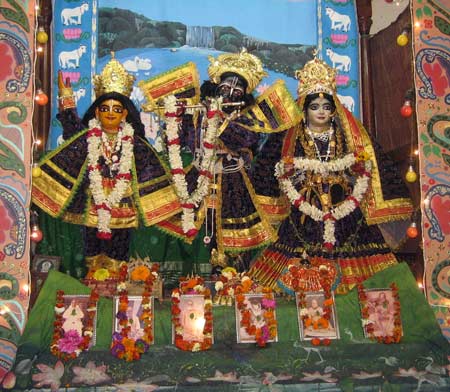 radha-syama ekatanu dakse gora raya
bame radha madhye svayam syama-gopa jaya
"On the right side Radha-Syam in one Form—our Lord Golden,
Left is Radha, middle—dark cowherd Himself is shining."
ebe toma dekhi muni syama-gopa-rupa
tomara sammukhe dekhi kanchana-panchalika
tahra gaura-kantye tomara sarva anga dhaka
"You cannot hide in front of me Your divine form. Radha-Krsna milita tanu: You are the combined formed of Radha-Krishna, I am seeing that. I am seeing Radharani's halo and heart You have taken and become Gauranga Mahaprabhu." This is the hidden treasure, which first came out from Ramananda Ray. After that, that consciousness was fully spread by Srila Rupa Goswami Prabhu. He told anarpita charim chirat, that sloka. And,
sri-radhayah pranaya-mahima kidrso vanayaiva-
svadyo yenadbhuta-madhurima kidrso va madiyah
saukhyam chasya mad-anubhavatah kidrsam veti lobhat
tad-bhavadhyah samajani sachi-garbha-sindhau harinduh
This
sloka
expresses how much the divine form of Krishna-
prema
is with Radharani; how much She is tasting everything of Krishna and in which way She is serving Krishna and in which way She feels the separation of Krishna.... Actually the divine form of Krishna is so beautiful,
sarvadbhuta chamatkara-lila-kallola-varidhih.
Everything will be stunned and astonished to see the divine form of Krishna and no one can be compared with that divine form....
...And nowhere is that kind of beauty. Even Narayan, even Baladev, even Sankarsan, even the Chatur-vyuha and others, anywhere. You cannot see that. That is existing within Sri Krishna Vrajendranandan. Who is Vrajendranandan Krishna, it is existing with Him. Then you cannot compare His Pastimes.
But Krishna wants to know, "How much beauty is with Me?" He knows when He is standing in front of the mirror, He wants to embrace the mirror. He is forgetting it is a mirror. He is thinking, "It is My divine second form. In front of Me, who is that, Me or My picture?" He cannot conceive, and that kind of beauty He wants to taste, and He tasted fully the mood of Radharani's devotion. He actually stole the heart and halo of Radharani, and became Gauranga Mahaprabhu. Svarup Damodar also told like that. Svarup Damodar told,
radha krsna-pranaya-vikrtir hladini saktir asmad
ekatmanav api bhuvi pura deha-bhedam gatau tau
chaitanyakhyam prakatam adhuna tad-dvayam chaikyam aptam
radha-bhava-dyuti-suvalitam naumi krsna-svarupam
That divine form of Krishna, it is Radharani's heart and halo taken -- and becoming Gauranga Mahaprabhu. This is the hidden treasure of this incarnation, that first came five hundred years ago, when Mahaprabhu appeared in Nabadwip.