Preaching Programme at Ulluberia
near Kolkata, West Bengal
15 April 2007
Headed by Sripad Acharyya Maharaj

by Malini Devi Dasi on pilgrimage from Malta
(with accompanying picture series)
---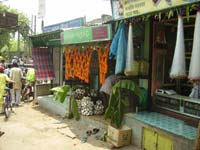 It's New Year's day... well, in Bengal it is! And Sripad Acharyya Maharaj has something special in store.
The green Sri Chaitanya Saraswat minibus is almost full of devotees when it drives out of Nabadwip Math's gate. We depart just before 10am and drive for several hours. I am amused to note that many houses and shops have the traditional festive coconut-in-a-painted-jar flanking the doorways, but this day also exhibits young banana trees in the set. I wish I knew the significance of that!
We see the scenery changing only slightly as we drive towards Kolkata but do not quite enter the city. Instead we head to the outer districts and finally make a stop: a family who often make a bhoga donation is requesting our presence – they wish to offer us prasadam. Actually today seems to be also Sri Ganesh-puja day – to remove the obstacles of material life throughout the coming year, I imagine. We stop only briefly and rasagulas have to follow us onto the bus since Sripad Acharyya Maharaj is very keen to arrive at the destination and we are running late due to a delayed start this morning.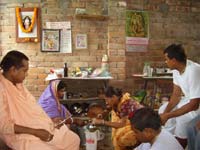 Some time later we make another stop. This is also intended to be a short visit, to members of our god-family, but minutes roll as we are served soft-drinks, ice-cold water and they endevour to make sherbet out of smashed up ice-lollys and yogurt in a bucket, which turned out very tasty indeed!
Finally, at around 4pm we arrive at our destination. It has a village atmosphere and a family welcomes us and ushers us up the stairs of their relatively large home. We find Sripad Tirtha Maharaj is waiting for us as we are led to relax in a room until a prasadam of mixed fruit and noodles is served. More devotees join us and we are ready to go! The bus is now packed as we drive to the place where the preaching programme will be held!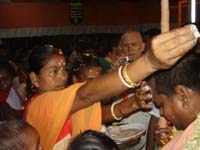 It is easy to notice when we approach the location – the streets are busy with people and devotional music is blaring loudly out of a sound system nearby. I am the last off the bus and am absolutely surprised as I turn around the bus to be swallowed by the crowd – they place a flower garland around my neck and dab cooling chandan on my forhead with flowers... I understand that this I must accept on behalf of Srila Gurudev; that all of this is channeled towards him.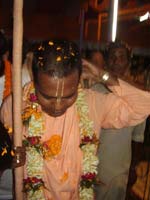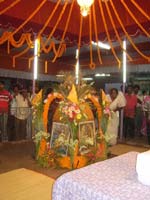 Especially the fuss is around Sripad Acharyya Maharaj and Sripad Tirtha Maharaj of course. They are superbly garlanded and lead the way to an area in the middle which is sectioned off and displaying several pictures of Sri Sri Radha-Krishna decorated with hundreds of flowers.
Sripad Tirtha Maharaj arranges pictures of Srila Gurudev and the Nabadwip Deities in order to form an altar and arati begins, with Amarnath Prabhu acting as pujari. The large crowd of onlookers is encouraged to join in and several happily sing the Mahamantra with the devotees. Tulasi parikrama is huge, and it is some time before the atmosphere calms down for the chanting of the evening seated bhajan songs.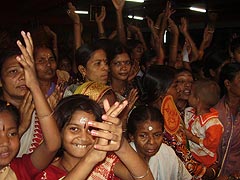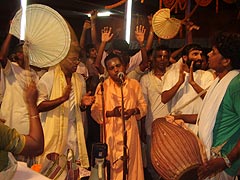 After the full programme of devotional songs has been sung, Sripad Acharyya Maharaj proceeds to give a class in Bengali.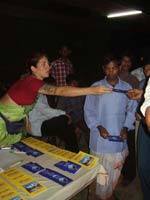 Meanwhile the Western devotees, of which there were four women and two men, organise a book table, which turns out rather successful. There was a crowd buzzing around the book-table for most of the evening, with people browsing books and discussing among themselves.
Gaudiya Gitanjali and the little blue Rs5/- books about Sri Chaitanya Saraswat Math are sold out! Copies of the Srimad Bhagavad Gita and Chaitanya Charitamrita are also sold, as well as several pictures of our Guru Varga and the Deities.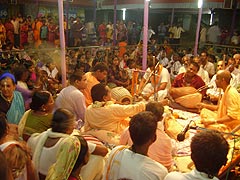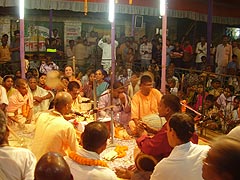 Meanwhile a projector is set up and the audience can view parts of the DVDs, "A Summer's Day in the Home of Pure Devotion" and "Gaura Purnima 2006". The audience is very receptive and listens attentively to Sripad Tirtha Maharaj's commentary. Finally the programme ends with a long session of chanting the Mahamantra led by Sripad Tirtha Maharaj.
It is past eleven o'clock when we return to the house. The Western devotees are led to a large three-storey house where they will spend the night, while the Indian devotees are divided between two other houses. After settling down our belongings, we all gather in the place where the sannyasis will spend the night and there we take a tasty prasadam which is much appreciated considering the long day. Returning to our respective houses, we take a candle-lit bucket-shower and lay to rest by about 1am!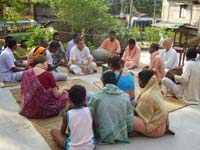 Next morning before six o'clock already we are moving around the house, getting prepared for the journey ahead. We quickly find ourselves at the house of the first family that hosted us on our arrival. Sripad Acharyya Maharaj and Sripad Tirtha Maharaj lead the morning seated bhajan songs and the latter gives a lecture.
An oppulent prasadam is served – it could have been a feast yet it is only breakfast time! We four ladies have connected intensely with the sweet didis there and we part sadly, with hugs and dandavats. We pile into the bus and drive away... Sripad Acharyya Maharaj will proceed on the second leg of the preaching tour by visiting several other devotee houses on the way back to Nabadwip while Sripad Tirtha Maharaj and I stop on the by-pass on the outskirts of Kolkata... he will head to our Kaikali Temple while I will head to Dum Dum Park, but we make the most of the trip together.
I feel a little sad for being unable to continue the preaching mission with the rest of the devotees due to some other urgent business requiring my stay in Kolkata, but greater is the feeling of happiness and vitality by the experience had!
Jay Srila Gurudeva ki jaya!
~Malini Devi Dasi

---
Plus: accompanying picture series
---