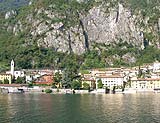 The congregational chanting of the Hare Krishna Mahamantra was heard throughout northern Italy this past weekend when fifty enthusiastic devotees boarded a boat that took them across Lago di Como (Como Lake), a Y-shaped body of water that extends to the border of Switzerland.
The Harinam party started at Lecco on the southern tip of the lake, continued non-stop for the 90-minute boat ride to Bellagio, bordering the middle portion of the lake, and carried on during the return journey. Surrounded by the foothills of the Swiss Alps and many storybook towns, the stunning beauty of the region was fully evident on the hot, sunny day of our boat trip.
Led by Sripad Siddhanti Maharaj, Sripad Acharyya Maharaj and Sripad Paramahamsa Maharaj, the devotees chanted with an infectious energy that attraction the attention of many onlookers. Shoppers, diners and tourists stopped to observe the passing party, and several curious residents stepped out onto their balconies to see what was going on. Sachidevi Dasi handed out invitations to the Italian center of Sri Chaitanya Saraswat Math: Villa Govinda Ashram.