He had big ideas about preaching Krishna Consciousness. Finally, his business failed, and he was in a very critical position in his grihastha life. His sister, Bhavani Didi, said, "O brother, this is not your life. You are really a sannyasi. Then you take sannyas and leave your house. We shall see what will be in the future. Preaching Krishna Consciousness is your life. Without that you cannot live, then leave your family life forever and go and preach."

Prabhupad was hesitating a little and said, "Who will look after my family if I go?" Pishima was a very rich lady with seven sons, and they were happy to serve his family. Then Prabhupad left his house and came to Guru Maharaj to take sannyas. But Guru Maharaj hesitated because he was Prabhupad's family friend, not only God-brother and Siksa Guru. He was thinking, "If trouble comes to Prabhupad's family after he leaves his house, that trouble will also come to me." Then he told Prabhupad to wait for six months, and then take sannyas. But Prabhupad said, "No, Maharaj, I cannot wait because if I wait difficulty will come to me. If I take sannyas now it will be very good."

Then Guru Maharaj said, "I am hesitating, but you can go to Keshav Maharaj." So Prabhupad went to Keshav Maharaj, took sannyas, and stayed in the Radha Damodar Temple in Vrindavan. There he translated the Srimad-Bhagavat and many other books. Finally, he wanted to go to the West. He thought, by hook or crook it is necessary to go and try. His preaching conception was so clear, and he had so many friends. One rich lady gave him a chance to go to America for free on her ship.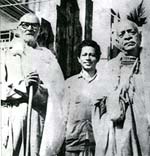 Wholeheartedly he was a very good friend of Guru Maharaj. He considered Guru Maharaj as his Siksa Guru because he was very much indebted to Guru Maharaj for many things he learned through discussion. He said Guru Maharaj is his Siksa Guru, and everyone knows that. He wanted Sridhar Maharaj to prepare him, and we know that Sridhar Maharaj prepared him for preaching the finest conception of Krishna Consciousness all over the world.

After returning from preaching in the Western World, he used to come to Guru Maharaj and discuss his preaching style. Sripad Bhakti Sudhir Goswami Maharaj published the first book, 'Guardian of Devotion,' about the relationship between Srila Guru Maharaj and Srila Prabhupad. Swami Maharaj wanted Guru Maharaj to stay with him in Mayapur; he wanted to make him another house there. That conversation is true; it was taped. Every time he came back from the West he went to Guru Maharaj expressing his preaching glories.