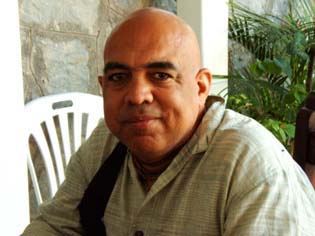 Here we have Antarjami Prabhu from Caracas, Venezuela. Encumbered in seva for the pleasure of Srila Gurudev and his devotees, Antarjami takes this moment to tell us a something about Venezuela.
Vaidehi: "What was spiritual life like in Caracas before the Parama Karuna Temple?"
Antarjami Prabhu:
"We already had a center in Margarita, which is outside of Caracas, and a few devotees would get together. We were aware of the uncertainties that Srila Gurudev had in regards to recuperating the spiritual lives of the devotees in Caracas. The temple had disappeared for more than eight years for some reason or another. Purujit Prabhu then had the idea and some resources he had prepared, to recuperate everything that had disappeared in relation to Krsna consciousness, in the city of Caracas.
"I was passing through the city one day when he expressed this idea to me, and proposed that we get together and make it happen. So with his ideas and some of my support, we started this ashram about two years ago. It has gone so well that the majority of the devotees have come back, and feel very happy to have this ashram here. Many come to help out as much as possible, which makes us very happy because we see that above all, it pleases Srila Govinda Maharaj and has in a way, fulfilled his desire to bring back the life of the devotees in Caracas."
Vaidehi: "We all know that already, there are many devotees in Venezuela but how do you preach to the people outside?"
Antarjami Prabhu:
"In the beginning, since it was only three devotees, they would bring friends and then they would bring their friends; that is how we would bring people. But now, since several months back, we have started to implement small fairs with vegetarian food, books, everything that is a complete presentation of Krsna consciousness in the line of Sri Chaitanya Saraswat Math. It has been very successful and it gives the people a chance to see different aspects of Krsna consciousness in the form of kirtan, music, worship, prasadam, and more than everything, contact with the devotees. This is what we are organizing now. We do it in parks, universities — any place where we can reach the masses."
Vaidehi: "The devotees from Venezuela are very enthusiastically doing their service. They seem to never want to stop cooking, cleaning, and anything else that might be needed. How is it that they stay so fired up?"
Antarjami Prabhu:
"We think it is because the majority of the devotees are fanatic about Srila Gurudev. This is their main motivation. Since Gurudev arrived, their enthusiasm has especially incremented. Many continue to step forward to offer their service and ask what they can do to help. It is something very natural in the devotees since for such a long time everything was asleep due to the illusory energy, Krsna's will, who knows why, but now the recuperation of devotional life in Caracas is spreading."
Vaidehi: "How has Srila Gurudev's visit changed the environment?"
Antarjami Prabhu:
"He has changed it a lot. Srila Govinda Maharaj's visit to Caracas has established the fact that there is an Ashram here. He has attracted the devotees living afar to come and take the opportunity to see him. They now understand Gurudev's desire that there was a need to have an Ashram in Caracas. They have seen him with their own eyes, and they have heard him express his happiness with their own ears."
Vaidehi: "It has been only two years since the Ashram began, and it has already grown so much. What are the plans and hopes of the future?"
Antarjami Prabhu:
"Obviously the plan is to train some of the devotees to expand Sri Chaitanya Saraswat Math to other states and keep establishing the future of Krsna consciousness in Caracas. For example, this new land that we have in the countryside is meant for the expansion of another beautiful ashram. We want to establish schools for the future generation and plant, now that we can, the future of Sri Chaitanya Saraswat Math. The plans are interminable. We want to print books, magazines, etc. but everything will come gradually according to the eagerness of the devotees, which is evident because so many are offering their service and collaboration."
Vaidehi: "Is there any message you have for the devotees around the world?"
Antarjami Prabhu:
"We want to tell the devotees around the world what they already know. The success of a devotee is to find a way to make Srila Govinda Maharaj happy. Primordially, we know that we have to keep in mind that an Acharya has descended just to save the fallen souls. Obviously, the principal points are to try and preach, establish Krsna consciousness, and find a way to maintain harmony amongst the devotees, which is an especially crucial point Srila Govinda Maharaj has made."
Vaidehi: "Can you tell us something about the relationship between Srila Gurudev and his disciple?"
Antarjami Prabhu:
"On one occasion we had the opportunity to read a paragraph from The Benedictine Tree of Divine Inspiration where Srila Gurudev explains how it is sometimes easy to find a pure spiritual master, but it is sometimes not that easy to find a good disciple.
"That means that we have to try to at least become good servants of the good disciples. We must give honor to the praise that Srila Govinda Maharaj gives us. Although we all want to be close to him, we have to find a way to keep doing our duty. No matter how insignificant it is, we must always think that it is our necessity because it is for the pleasure of Srila Gurudev. He doesn't necessarily have to personally see you doing that service to receive it. Either way, whatever service you are doing He will hear about it through someone else who, for whatever reason, has the fortune of being close to Him."

*~*~*~*~*~*~*~*~*~*~*~*~*~*~*~*~*~*~*~*~*~*~*~*~*~*~*~*~*~*