I first met Ista Devika when I was in seventh grade, as Emily, and invited her to come to the Temple a few times. I would call her and tell her, "There is a feast tonight you have to come!" She would come every once in a while but now that Srila Gurudev is here, she has taken initiation and does service at the Temple whenever she has a break from school. Ista Devika is currently studying at Cabrillo College, the same community college I, as well as several other devotees, attend. Let us hear the story of her first introduction to Krishna consciousness, and how her life might have changed now that she has joined that path of Bhakti Yoga.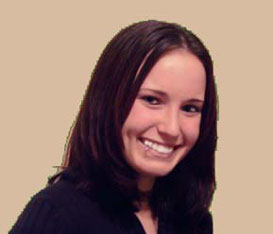 Ista Devika: "I was going to a home-school program called AFE, and some of the young devotees like Sarvananda, Dhruva, Satyabhama, Anapurna, Vaidehi, Vyasa, etc. were also going there. I had been going to a Temple in San Diego with my mom when I was about four years old, but started coming here in eighth grade. Vaidehi was the first person to invite me to come to the Temple and when I came, I really enjoyed it. I felt very comfortable and everybody was welcoming and nice, so I always came back."
Vaidehi:
"When you first arrived to the Temple, what sort of impression did you get?"
Ista Devika: "It was very different than other religions I had been around. I liked the community and how close and welcoming everybody was. Nobody judged me."


Vaidehi: "Did you know anything about the Deities when you first saw Them?"
Ista Devika: "I knew that the blue one in the middle was Krishna, but that is all I knew. I thought They were really beautiful and amazing, but I didn't know too much about Them."
Vaidehi: "You've been coming to the Temple more often, and now that Srila Gurudev has arrived, what inspired you to get initiated?"
Ista Devika: "First of all just seeing him and being in his presence was really amazing; I realized how great he is. I had heard about it, but never knew until I experienced it. I felt nervous and got all teary eyed, but I was happy to see him at last. One of the older devotees that inspired me to get initiated was Sarvabhavana Prabhu when he would speak at the Tuesday class. During the time that I was considering whether I should get initiated or not, he had a class and said everything I needed to hear to convince me that I really did want to receive Harinam."
Vaidehi: "Is there something he said that is still with you to this day?"
Ista Devika: "He was talking about the seed of Krishna Prema, how it is planted when you get initiated. He said something about how Krishna will guide you away from material attachments. He will steer you away and slowly you will become less and less attached. The way Sarvabhavana Prabhu said it, it was very clear and direct. Another thing I remember is that for example a lot of other religions put themselves as the highest and put down other faiths. Sarvabhavana Prabhu said that if someone is, say, a Christian, you don't want to take away their faith. They are also on a spiritual path but it's just different from ours. Krishna is one, but he is interpreted in many different ways and there are distinct paths to take, so we shouldn't put anybody down because they have a different capacity."
Vaidehi: "Do you have any aspirations or is there another step you wish to take to deepen your path to Krishna consciousness?"
Ista Devika: "At some point, once I have my life a little more together and I have finished school, I want to find a service that I can do really well. I want to find a responsible service because I know that I need to do that. It's really hard for me to be ready to do that and actually get myself to do that because right now there is so much going on in the teenage world of stupid material stuff. But once I really have my life together I want to find a service that I can do well."
Vaidehi: "Is there a message you have for the devotees around the world?"
Ista Devika: "When you are feeling uninspired or not into doing service or coming to the Temple at the moment, make sure you keep your association with your devotee friends. If they are all going to the Temple, you are going to want to go with them and you're going to be more inspired if you keep your association with the devotees."
Vaidehi: "Thank you very much for sharing your stories with us. I hope that in some way, these interviews are helping someone in need!"