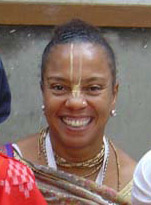 "I began following the regulative principles and this girl that was there asked me if I could really do that. I told her: 'Of course I can! No problem. You want to be happy? Do you want God? Do you want a spiritual life? I was searching for some books about spirituality at an occult bookstore and I have come across these people. If you really want God, you can give up anything.'"
- Divyashakti Devi Dasi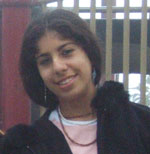 "When you went to that Sunday feast, that was probably the first time that you participated in a program. What was it like for you with the Deities and the arati?"
- Vaidehi Devi Dasi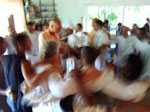 "I just know that the feeling that I had when I was there, surrounded by all of this transcendental energy and euphoria of people's hearts jubilant for finding the culmination of our human life, I was like, 'God, this is it!'"
- Divyashakti Devi Dasi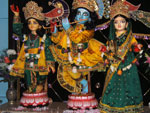 "The murttis are alive. They are full of consciousness and spiritual substance, and Srila Prabhupad revealed that to me. Of course, it is the Lord in the heart, the Guru in the heart, directing us to come to this path and this conception."
- Divyashakti Devi Dasi
Interviews by Vaidehi Devi Dasi in California during the 21st World Tour of Srila Bhakti Sundar Govinda Dev-Goswami Maharaj, 2004-2005.
Also, please see: Interview with Kamal Krishna Prabhu
Divyashakti Devi Dasi is an extraordinarily dedicated servitor and personal collector of Srila Bhakti Sundar Govinda Dev-Goswami Maharaj. Her fiery enthusiasm and dedicated energy helps us to remember Srila Gurudev and his divine Mission. Divyashakti Devi Dasi is a guide and inspiration to all of the people around her. Today she will share with us how she was introduced to Krishna consciousness and how her life changed as soon as she joined the movement.
Divyashakti Devi Dasi:
Actually, I was kind of fed up with my life. I was suffering too much and always trying to find some real happiness. At that time, I was staying with people from the theatre since I was doing theatre as well. These people were into some impersonalist spiritual life and into some kind of mind power. They had some dark powers and some good powers, but actually I was introduced to the Bhagavad-Gita through them and the first book that I read was 'Easy Journey to Other Planets.' I had gotten my first Bhagavad-Gita when I was 18 years old but as time went on, then they started telling me that if I read the Bhagavad-Gita I would be regressing. They would know where I was and when I was reading the Gita, and that freaked me out so I had to get away from these people. I left all of my belongings which were very elaborate and ran away. I had diamonds, silks, furs, etc. and left everything.
I was always wondering: When will I find happiness? Where will I find it? So I went to an occult book store in Los Angeles and there was this young man doing tarot cards. He read my cards and said: "Why did you eat that meat last night?" I said: "I know it wasn't right, but I was so starving and there was nothing else to eat in the house that I was staying in. I didn't want to eat it, but I ate it. And after I had eaten it I felt awful." He told me that I shouldn't eat meat. I told him that I knew that, and that I just wanted to know if I would find happiness in my life. I told him I needed some job, I wanted to go somewhere and get out of the situation I was in.
So he told me: "Come with me and maybe you can find a job and work where my wife is working." He finished reading my tarot cards and told me to go with him. I went to his house and they had this all-vegetarian dinner. We prayed and held hands and it was really nice so I stayed the night. The next day, I went to her job and she worked at this place called F.A.T.E. - The First American Transcendental Exhibition. F.A.T.E. is actually the museum of the Iskcon L.A. Temple, where all of the Deities were sculptured and repaired. She was telling me about this place and I showed her a drawing of some 'Om' signs that I had done. It was sort of like a cathedral of Oms and I presented this picture to them and they liked it very much. Immediately they told me that I had gotten the job and I was very happy that I could work here since I was now homeless. They asked me to do some artwork and began showing me what to do. When I walked into the room there were all of these different murttis for the museum. I had no idea what I had walked into. Then I saw a big brown murtti of this man and I was like, Wow! They had me doing a lot of sanding. I would fill in the holes in the murttis and then I would sand them and make them all smooth.
Vaidehi Devi Dasi:
Were these Deities that they actually worshipped?
Divyashakti Devi Dasi:
No. These were Deities that they used in the museum for the first F.A.T.E. exhibition. In Los Angeles, they have a museum that you go to which is like the Bhagavad-Gita. They also have an exhibition of Srila Prabhupad's life. I was doing all of this without knowing what these statues were. Then, they had me working on the brown statue, which was Srila Prabhupad's murtti. I got to mold the ears of Srila Prabhupad and I got to smoothen his face. I can remember that when I was working on Srila Prabhupad's face, he has a vein on his forehead and I was trying to smooth that out. They told me: "No, no, no don't smooth that out! That's supposed to be there." This was all very enlivening to me and they began telling me about Krishna consciousness and I started liking the place. At lunchtime they would yell: "Prasaaaadammmm!" They told me that that meant foodstuff and I began having prasadam while working there.
I was then staying there with these other people and soon they introduced me to the chanting of the Holy Name. They said: "You know, while you're sculpting, filing, and molding, you should try chanting 'Hare Krishna'." So I said okay and started chanting while I was working. I began feeling that this was really nice and beautiful. I could feel some mercy I guess from the Lord within my heart and I was feeling enlivened. Then they began telling me about the regulative principles and I was feeling some more joy in my heart. The reason I had approached the tarot guy in the first place, was because I wanted to be happy. I was stuck in my suffering and my life was so hellish. This chanting was making me experience some happiness.
I began following the regulative principles and this girl that was there asked me if I could really do that. I told her: "Of course I can! No problem. You want to be happy? Do you want God? Do you want a spiritual life? I was searching for some books about spirituality at an occult bookstore and I have come across these people. If you really want God, you can give up anything." In time that girl kind of fell away, but I kept going with it.
I told them that I needed a place to stay and that I had found a studio apartment down the block from the F.A.T.E exhibition and they told me: "Why are you going to move in there? Why don't you stay and live at the Temple?" The Sunday feast was coming, so I went and that was it. I came there with the clothes on my back, this was in 1978, and I had nothing else and decided right then and there to move into the Temple. I did have a pair of diamond earrings and I took those off and gave them to the Guru that was there.
Vaidehi Devi Dasi:
When you went to that Sunday feast, that was probably the first time you participated in a program. What was it like for you with the Deities and the arati?
Divyashakti Devi Dasi:
I just know that the feeling that I had when I was there surrounded by all of this transcendental energy and euphoria of people's hearts jubilant for finding the culmination of our human life, I was like, "God, this is it!" Gurudev says, your heart will never deceive you. It was such a real thing that you couldn't be deceived by knowing in your heart that this is what you are searching for. You are searching for Sri Krishna, reality the beautiful. This is it!
They allowed me to move into the Temple and they gave me a tooth brush, sheets - everything I needed. I had nothing and moved into the Temple that day and never left.
Vaidehi Devi Dasi:
Did you ever meet Srila Prabhupad?
Divyashakti Devi Dasi:
I never met Srila Prabhupad but I had a dream about him. I am thinking I had a dream about him in this way, because I first came into the movement because I was helping to make his murtti. In this dream, Srila Prabhupad was sitting on his vyasasana in his murtti form and started to speak to me. Srila Prabhupad told me: "I am here. I am present in my murtti form. I am not this stone form, I am present in my murtti." That was so amazing to me and I will never forget that dream. The murttis are alive. They are full of consciousness and spiritual substance, and Srila Prabhupad revealed that to me. Of course, it is the Lord in the heart, the Guru in the heart, directing us to come to this path and this conception. That was really beautiful.
I also had one other dream with Srila Prabhupad that I can remember. He told me that I was very slow. He said I have to be quicker and I have taken that instruction with me throughout my life because it is so hard for me to change. I feel like I am so slow to surrender my life to Krishna. I just can't quite get it together and I am always slow for surrendering. I was also always slow in the things that I did, even though I thought I was trying to do things quickly. The devotees would always call me Molasses Mayi. My name used to be Ganga Mayi, and they would call me Molasses Mayi because I was slow. I am always trying to be quick, but it seems that I am very slow at my surrendering process. I have a hard time surrendering so I hope that Gurudev forgives me for that. I am always trying to work on that.
Vaidehi Devi Dasi:
How did you come to Srila Govinda Maharaj?
Divyashakti Devi Dasi:
Srila Govinda Maharaj! Gurudev! Gurudev is in the heart and Gurudev directs us in the heart to himself, actually. So it's Gurudev in the heart bringing us to him and I came to Gurudev through Srila Guru Maharaj, Srila Sridhar Maharaj. I was in the Temple in New York and they had so many horrible things going on, politically speaking. There was so much disharmony in the mission about Srila Guru Maharaj and I had gone to New York at that time to try to search out my life because my former Guru had fallen away. I went to New York to try to find some guidance and shelter.
We were hearing so much about Srila Sridhar Maharaj, and I heard something in Los Angeles, but I was always protected from hearing any politics because I was a "sankirtan devotee" and they didn't want to disturb the younger devotees. In this way I was kept protected from hearing any kind of blasphemy. In New York, I would just try to go out and distribute books and raise funds like I was doing in Los Angeles for so long, but the politics were getting worse.
There was this devotee there, her name was Anchari Devi Dasi and she asked me if I wanted to see a video about Srila Sridhar Maharaj. I said yeah, so we went over to her house, she turned on the video and literally, literally, the whole room lit up with white effulgence, and my consciousness elevated to so many octaves. My consciousness became so light and white and the room became so clear, soft, and beautiful and we were watching and listening to Guru Maharaj. We couldn't understand a word he was saying but we knew within our hearts that whatever he was saying, it was right. We both looked at each other and I said to her: "Do you feel that too?" She told me she did and then I said, "I'm going to India and I want to receive re-initiation by Srila Sridhar Maharaj."
I began searching out for his disciples, and left Iskcon in New York. I tried to find shelter but was always misunderstood by my material family, so I took shelter from the devotees again. One day, I went downtown to Brooklyn, where there was this preaching center in the basement of this devotee's vegetable and fruit stand. His name was Vamsi Dhari Prabhu. There, he had all of Guru Maharaj's books and I read about six books in two weeks: 'Sri Guru and His Grace,' 'Search for Sri Krishna Reality the Beautiful,' 'Ocean of Nectar,' and all of these other little books that were printed of Srila Sridhar Maharaj from Thirteenth Street in San Jose. So I went down to his basement and read all of these books and he let me stay there. I told him that I wanted to go to India to get re-initiated by Srila Sridhar Maharaj. I had already missed Srila Prabhupad and was not about to miss the association of Srila Sridhar Maharaj. I knew he was very old and I really wanted to go to India and meet him.
Vamsi Dhari Prabhu then told me that I should wait because there was this sannyasi who was a representative of Srila Sridhar Maharaj, and he was coming to open a Temple in New York. I told them I would, so I waited and met Sripad Kanan Giri Maharaj. I introduced myself and told him that I wanted to go to India with urgency because I needed to meet this pure devotee and have a bona-fide Guru. I told him I had read all of the books and he said that it was best if I stayed in New York and try to do some service. I was very sad because I wanted to go to India and meet Srila Sridhar Maharaj, but he said it was better if I offered some service first. I tried and tried but it was hard for my heart to accept this. I remember that Avadhut Maharaj of Venezuela, and Radhanti Maharaj would say, "Go! Go to India and meet Srila Sridhar Maharaj!" But they were trying to establish some center in New York because Guru Maharaj wanted a place in New York. He had said that New York was a passing place for the devotees that traveled to India and would be a very good place to have a Temple. So if I could be there and help Kanan Giri to establish this Temple by raising funds, Guru Maharaj would be very pleased.
Vaidehi Devi Dasi:
So did you end up meeting him?
Divyashakti Devi Dasi:
Well, I ended up staying as long as I could, and got ritvik initiation by Kanan Giri Maharaj on Lord Nrismha Dev's Appearance Day in 1987 and received the name Divyashakti Devi Dasi. That year, I went to India for Srila Guru Maharaj's last Vyasa Puja. I met him and he gave me some instruction. He told me that I was very fortunate to be connected to Lord Nityananda and Lord Chaitanya's sankirtan movement. He told me that he was very old and could hardly see and could barely hear and then he went on speaking to me. I was just so mesmerized about what he said to me. I then looked at Anuradha Devi Dasi and asked her if I could touch his feet and she nodded her head, yes. I bowed down and touched his feet to my head and he offered me a flower. I still have that flower. I was overjoyed.
That is how I met Guru Maharaj, and through Guru Maharaj I took full shelter of Srila Govinda Maharaj because I wanted to follow Srila Sridhar Maharaj's instructions. My heart was always there trying to serve Guru Maharaj and follow his instructions to serve Srila Govinda Maharaj. Because I received ritvik initiation after 1985, I am actually a disciple of Srila Govinda Maharaj. I asked Gurudev once when I was in Australia: "I received ritvik initiation in 1987, but I feel like I am your disciple." He said: "That's because you are my disciple! Everyone before 1985 is a disciple of Srila Sridhar Maharaj, and after '85 you are my disciple."
I bowed down to Gurudev and took my beads that I had with me, and gave them to him and said: "Please bless my beads." He took them immediately and chanted the whole Mahamantra on them. I held my hands out and he dropped them in my hand. Those beads were touched by Srila Sridhar Maharaj, Sripad Kanan Giri Maharaj, and now Srila Govinda Maharaj. That is pretty much how I came to Srila Govinda Maharaj.
Vaidehi Devi Dasi:
Do you have a message for the devotees around the world?
Divyashakti Devi Dasi:
Follow your heart. Your heart will never deceive you. No one else can tell you anything. People can tell you things, but we have to follow our heart. And how do we know that it's our heart and not our mind? You will know what is your heart and what is your mind. How did we know? Look what brought us here. It wasn't my mind that led me to the feet of Guru Maharaj, it was my heart. As dumb and ignorant as I am, it wasn't my mind, it was my heart. We have to have faith in that. It's a heart transaction. We have this little pamphlet that says, "It's a heart transaction" and that's what it is. As fallen as I am, my heart has led me to this conception and I have to trust in that.
Vaidehi Devi Dasi:
Every day you go out collecting and there are probably days that you don't want to go. We all lose heart and don't want to go sometimes, so what's the one thing that makes you keep strong in your service to Gurudev?
Divyashakti Devi Dasi:
It's an impelling force that drives me every day to go out and to want to get up and go out. That impelling force I feel in my heart is the love that pushes me out the door. Love is spiritual and that is what pushes us. It just pushes us from behind and kicks us out the door. It's the love within the heart that just pushes us out there to have compassion and give out that sukriti to the conditioned souls. We can't do anything - it's all the mercy of Guru Maharaj and Gurudev. To be able to come in contact with these conditioned souls and give them what you first felt when you came to the Temple, all of this joy and real happiness - you want to give that to others. You see how people are suffering in illusion and you just want to be able to please your Gurudev. What he has given you is a natural spontaneous thing. We want to serve, and that comes from the heart.
All of this, this impelling force, drives everybody to do their specific service. That impelling force that drives me to do my service, that drives you to do your service, it's the same thing. It's that love in the heart where you want to serve your Gurudev and serve the Mission and give to others. It's Lord Chaitanya's sankirtan message of spreading this movement and love and giving it to others. That's what I feel impels me to go out. Why do I do this? I feel rightly situated. I have to do it, or you can say I love to do it! I mean, what else is there to do?
Vaidehi Devi Dasi:
How do you not think about just trying to make a lot of money. How do you stay focused on the fact that this is all mercy and that the essence isn't the amount of money that you make. How can you focus on the fact that it's about distributing the mercy? How can you try to think about that? I mean, you are trying to raise funds out there.
Divyashakti Devi Dasi:
Oh yeah, I am trying to raise funds out there. You do want to get the results. We want to make money and we want to do big. I want to go out there and do big and get as much money as I can. I am not going to ask for a dollar or two, I am going to ask for big donations. 10's 20's more than that, from each individual. We want to do big for Gurudev and we want to do big for the Mission, but we don't want to get caught up in the results. If the results don't come, you don't get bummed out, and if the results do come, you feel happy but you don't want to be attached. You just have to offer everything to Gurudev. Offer the results of your activities to him and if you do good, it's great and if you don't do good, you know you've tried and you feel good about that. What can you do? You tried and you did your service and that's what it's all about. It's not about the result, but about your internal consciousness and doing your service, and you want to be steady in that.
Gurudev doesn't need money. He doesn't need our service. We need to serve Gurudev, we need to serve Him. We may think that he needs laksmi for this and that but he's already there, he doesn't need anything. We need to serve him and its the mood of service - it's not how much, it's the mood. It's that same mood of Lord Chaitanya and Lord Nityananda that is giving out that mercy and having compassion knowing that we're suffering so much and knowing how people are in so much illusion that they don't even think they are suffering. I mean, that's like, really heavy. At least some people who are suffering come to Krishna consciousness but when you think you are enjoying and not suffering - it's hard to get to those people. They are not searching for God because they are happy in their own temporary illusory material life. It's hard to get them to give a farthing. So we just pray for them that one day they may get some prasadam and have a change of heart.
Vaidehi Devi Dasi:
All glories to Srila Bhakti Sundar Govinda Dev-Goswami Maharaj who is an infinite reservoir of all-encompassing nectar and charm. Harinam Sankirtan ki jaya! Divyashakti Devi Dasi ki jaya!


http://california.scsmath.org

---

Sri Chaitanya Saraswat Math, Nabadwip
http://scsmath.com | Main Centres | What's New? | World Tours