Left: The Temple and Nat-mandir floor plan. This is now manifesting on the side of Sri Govardhan Hill by the vision and guidance of Srila Bhakti Sundar Govinda Dev-Goswami Maharaj, .
Any Service for this project may be sent from India or abroad by cheque, bank draft, etc. payable to "Sri Chaitanya Saraswat Math and Mission" and mailed to:
Sree Chaitanya Saraswata
Krishnanushilana Sangha,
487 Dum Dum Park,
Calcutta 700055, India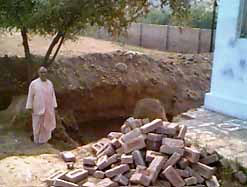 Above: The new Temple's foundations were begun during Srila Govinda Maharaj's visit to Govardhan before his recent 17th World Tour. Sripad B.P. Janardan Maharaj shows the progress just a few days later. Sri Giriraj's present small Temple room is on the right.