Dandabat pranam to all the devotee readers,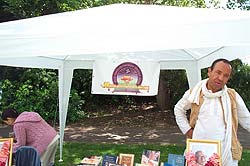 Every year on the June Bank Holiday Kingston, a leafy and affluent suburb of London, plays host to a large fair offering alternative and environmentally aware life styles and philosophies. Everything from solar energy and vegetarianism to the local Boy Scouts group are represented here.
There is a strong emphasis on spirituality and finding inner peace and fulfilment, so with that in mind the London Sri Chaitanya Saraswat Math is always a prominent feature in the "Spiritual Zone." This year was no exception and, with our crew of dedicated devotees, we spent the day discussing Krsna Consciousness with the many sincere seekers who came our way. Armed with the books of our Sri Guru-varga and with Harinam Sankirttan and with prayers to Srila Govinda Maharaj for his Divine Grace, we had a happy day trying to spread the Mission of Sri Chaitanya Saraswati.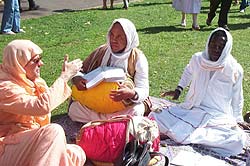 The weather was fine, and, led as always by the sweet mrdanga of Sri Dayanidhi Prabhu, we chanted the Holy Names the whole day. Sripad Tridandi Maharaj joined us and spoke eloquently to the people attracted by the Kirttan. Srimati Sri Lekha Didi spoke to the people, distributed Prasadam and helped Srimati Ishanuga Didi raise funds for the Mission with children's face painting and mendhi (henna) hand painting.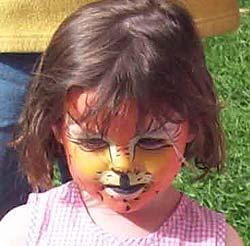 Half way through the day just as the devotees were beginning to flag in the heat and in need of some nourishment, Srimati Saraswati Didi and her sister Srimati Krsna Mohini Didi arrived with hot kitchuri with panir, freshly baked bread and cheese. After taking a well earned break to honour the Lord's Prasadam (which we shared with many happy festival-goers) we began again with Nama Kirttan, answering questions and distributing the ever popular sweet balls to all and everyone.
Inspired by the mood of dedication shown by the London devotees, and by their request, the London Mission secretary led Sankirttan around the park from one end to the other and back to our stall.
The Kingston Green Fair marks the beginning of a whole summer of preaching events and along with our regular evening programmes at halls and libraries around London there are many opportunities for the devotees from around the world to join with us.
Sripad Sudhir Goswami Maharaj sometimes gives the example that if you are eating something very tasteful and delicious then rather than becoming silent with satisfaction, the natural tendency is to want to share that with everyone so they too can benefit form that wonderful taste. So while we are very much relishing the Sankirttan of our Gurudev which is uniquely flavoured with the taste of his service, we want to give everyone the opportunity to taste that. Mystically that makes it even more sweet and tasteful.
Param Vijayate Sri Krsna Sankirttanam!