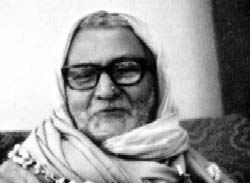 At that time Srila Guru Maharaj was walking on the veranda chanting upon his beads. Then Jayadwaita Brahmachari Prabhu showed me: "He is our Guru. Come!" Then I went up to the veranda and Jayadwaita Prabhu gave full dandavat pranams and told me to offer full dandavats also. Then Srila Guru Maharaj asked, "Where did you find this boy?"

Jayadwaita Prabhu gave a little description, and finally said, "In this way this boy has joined your ashram today." Srila Maharaj said, "Ah, this is a nice, intelligent boy." He thought, "If I can prepare him, this boy can be a good weapon for our Society."

He asked me, "Can you stay in ashram life?" I was surprised and thought, "Why is this sadhu asking me, 'Can you stay?' I have come to stay so it is already final, then why is this sadhu asking me, 'Can you stay or not?'" At that time I had no idea, but I replied, "Yes, I can stay."
First fasting

That was on Nrsimha Chaturdasi, a day of complete fasting. I had never fasted before. Ever since formally receiving the traditional Brahmin thread I had followed Ekadasi and never took grains on that day, but I had never fasted. Instead we would eat alu-dham (plain potato subji), and take some milk preparations on Ekadasi days. In this way we followed Ekadasi with very nice preparations which had a different taste. But here I was being told, "It is Nrsimha Chaturdasi, you will not be given anything at all to eat."
At that time I knew nothing about Nrsimha Chaturdasi and having walked since the middle of the night I was very hungry, so I asked Jayadwaita Prabhu, "Oh Prabhu, I am very hungry." To which he replied, "Today is a day of full fasting."
I asked, "I cannot eat anything?" He told me that I could eat some fruit. But where could I get some?
I pointed out a papaya tree nearby. Jayadwaita Prabhu then said to me, "Yes, you can take one papaya. But you must give half to the Deity and the remainder you can eat yourself."

That evening after Nrsimha-puja they gave me so much alu-dam, and the next day there was a very nice festival and much Prasadam. Especially the paramanna (sweet-rice) was really tasty.
After two days the rest of the preaching party returned from Nadanghat, and it seemed I had already many friends here by now.