Dear Devotees & Friends,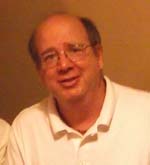 Yudhamanyu Prabhu Seva Vikram
I just finished a two week trip to China visiting Yudhamanyu Prabhu Seva Vikram and many of the Chinese devotees. We went to Shenzhen for one week where Jayavati Devi arranged everything for us. Urmila Devi, Yasomati Devi, Jairam Prabhu and Jayindra Prabhu came to visit Yudhamanyu Prabhu and myself. It was so inspiring to hear Yudhamanyu Prabhu preach to them with so much affection. They all love him so much and have genuine appreciation for giving them a connection to Srila Gurudev, Srila Acharyadev and our family of worldwide devotees.
Several interested friends came including Tommy and Betty. (Most of the Chinese who studied English in school, have English names that they use, that were given to them by their English teachers.) When Tommy heard about our principles of humility, tolerance and offering respect, he expressed how this was something he felt deep in his heart and was so happy to find others who felt the same way. He told us how his desire was to clean his heart and learn more and more about spiritual life. He immediately booked a trip to Thailand to spend time with the Russian devotees in Chiangmai to learn more.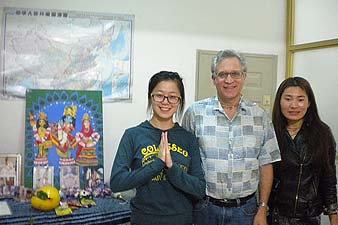 In Chongqing: (left to right): Madhumati Devi Dasi, Hasyapriya Prabhu and Sita Devi Dasi.
Then we went on to Chongqing for another week where Yudhamanyu Prabhu lives and teaches English at the university. Sita Devi, Madhumita Devi, Dhanista and many other sincere souls came to see us each day. Yudhamanyu Prabhu brought me to a few of his English classes where the students asked questions and I tried to answer as best I could. Yudhamanyu Prabhu told me each morning he listens to a lecture from Srila Guru Maharaj and prays that he can go to his classes and explain something he heard from Srila Guru Maharaj to his students. One student, Jenny, mentioned that she had read the book 'Inner Fulfillment' given to her by Yudhamanyu Prabhu and she asked what is real inner fulfillment and how can she achieve it? Wow! Another student Dolphin, asked how can I learn more about my heart and life?
Of the billion plus people in China, a few sincere souls have been fortunate to receive the association of Yudhamanyu Prabhu Seva Vikram, who has sacrificed so much for eight years to serve the desire of Srila Gurudev to preach Krishna Consciousness in China. The devotees' realizations have grown. Other devotees have come to China. Many of the Chinese devotees have now travelled to India, Thailand and Russia and received the holy association of Srila Gurudev, Srila Acharya Maharaj and many, many devotees from around the world. In this way, gradually they are advancing and it is so wonderful and enlivening to witness this historic unfolding of Krishna Consciousness in China.
All the Chinese devotees ki jay!
Yudhamanyu Prabhu Seva Vikram ki jay!