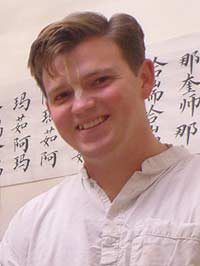 Chongqing, China.  On January 11th, 2015, Srila Bhakti Pavan Janardan Maharaj and Sripad Yudhamanyu Prabhu Seva Vikram accompanied by Sripad B.R. Madhusudan Maharaj and eight devotees from China addressed a gathering at the Sino-India Yoga Association's Cunyuan yoga studio for the first public programme of Sri Chaitanya Saraswat Math ever to be held outside the local Ashram premises.
With all the devotees wearing traditional Vaishnava clothing - dhotis for the men and saris for the ladies - they attracted much inquisitive interest while walking the streets to the yoga studio. By the mercy of Srila Gurudev we were able to find the place in the midst of this huge city of 30 million people, and we arrive safe and sound.
We were under the impression that there would be another speaker hosting the event and that Srila Janardan Maharaj would be able to speak for a few minutes, but the entire gathering was organised just for the devotees. We were very pleased to have this opportunity. The programme was well attended with over fifty guests participating.
We were asked to speak on the concept of happiness. Srila Janardan Maharaj explained about the nature of the soul compared with the nature of material matter, and how we can only find fleeting happiness here in the material world. He described how our soul is eternally transferring from body to body, like a driver changing vehicles, and that we can find eternal, fully awake happiness, sat-chit-ananda, through the worship and service of Sri Krishna, Sri Guru, Sri Gauranga, and the Vaishnavas.
After the talk, there was a very nice kirtan with everyone happily chanting the Hare Krishna Maha Mantra, and then we served Prasadam of various fruits and cupcakes.
From the moment we arrived until the moment we left everything went very smoothly and nicely, and Srila Janardan Maharaj was extremely happy with the result of the programme. It was not only a tremendous success, but an historic occasion.
A special mention goes to Sita Devi Dasi who worked tirelessly to search for a place where the programme could be held. She organised the entire event, and did all of the translating as well.
And, of course, a huge mention goes to Yudhamanyu Prabhu Seva Vikram Prabhu who has been cultivating the devotees of China for many years and who invited us and looked after us with great care during our stay. His surrender to the sweet desire of Srila Gurudev Srila Bhakti Sundar Govinda Dev-Goswami Maharaj is a wonderful example to us all.
Srila Gurudev Srila Bhakti Sundar Govinda Dev-Goswami Maharaj ki jay!
Srila Bhakti Pavan Janardan Maharaj ki jay!
Sripad Yudhamanyu Prabhu Seva Vikram Prabhu ki jay!
Srila Bhakti Nirmal Acharya Maharaj ki jay!
With obeisances,
~Nilamani Das