Date: Wed, 16 Aug 2000 23:49:48 -0700 (PDT)
From: Hasyapriya Das, St. Petersburg
Subject: Report from St Petersburg, Russia
To: Sri Chaitanya Saraswat Math <info@scsmath.com>
-------------------------------------------
Aug 17, 2000
Dear Devotees,
We all arrived safely in Moscow Friday night and then on Saturday morning August 12, with the Russian devotees we greeted Srila Govinda Maharaj and his entourage at the Moscow airport. His Divine Grace was very happy to see the Russian devotees. He seemed in good health and gave everyone so much affection. Then while he went to a nearby hotel room to rest for a few hours, we all went to another airport to await our flight to St. Petersburg.
By now our group had grown to about 20 devotees. Traveling from India with Srila Govinda Maharaj was Sripad Ashram Maharaj, Sripad Paramahamsa Maharaj, Sripad Tirtha Maharaj, Bhakti Lalita Devi Dasi, Sripad Chidananda Prabhu, Bhakta Bandhu Prabhu, Mr. Choudhury, and Mantu Babu Prabhu. Sripad Swarupananda Prabhu and Mukunda Prabhu had already arrived from London and Sripad Giri Maharaj and Sripad Goswami Maharaj were waiting for us in St. Petersburg. Goswami Maharaj had just finished a one month preaching program in the Ukraine and in Moldovia. On our party from America were Sripad Yudhamanyu Prabhu Seva Vikram, Sripad Ramananda Prabhu, Sripad Madhavananda Prabhu, Krsna Bhusan Prabhu, Vidura Krishna Prabhu, Kumari Radhika devi, Kumari Jai Sri devi and myself. Along with Jagannath Vallabha Prabhu we boarded the flight to St. Petersburg and this year, by Krsna's mercy, we had a smooth uneventful flight!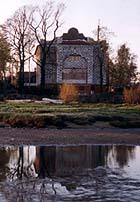 Arriving at the Sri Chaitanya Sarawat Math in St. Petersburg, we were astonished by the size and beauty of the new Nath Mandir building that had just been constructed in little more than one year, under the direction of Vijay Raman Prabhu and Jagannath Vallabha Prabhu. Rising up with the Baltic Sea in the background, the Nath Mandir stands about 50 feet tall (15 meters). The building is decorated with Indian style arches and soon will come the golden domes. Many of the special materials used to insulate the structure from the sub-zero winter cold were designed by German engineers.
Inside the temple-room we saw how the altar was beautifully decorated with Italian marble. The temple-room, with 25-foot high ceilings (8 meters), and an indoor verandah, was large enough to easily accommodate 300 to 400 devotees.
Vijay Raman Prabhu brought Srila Govinda Maharaj on a tour of the whole building, showing him all the additional rooms including living quarters for up to 50 devotees, a special kitchen for the Deities, rooms for the pujaris, storage rooms for the Deities' paraphernalia, and downstairs were meeting rooms and more and more! Srila Govinda Maharaj many times expressed how pleased he was with this magnificent offering from the Russian devotees.
Then on the holy Appearance Day of Lord Baladev, Their Lordships Sri Sri Guru Gauranga Radha Madhava-sundar manifested in St. Petersburg, Russia! Seeing Their unparalleled beauty and effulgence, an ecstatic wave swept through the temple-room. Devotees were dancing and chanting in celebration, others were speechless in astonishment, while still others were crying from happiness. During the installation ceremony, Sripad Tirtha Maharaj and Sripad Parmahamsa Maharaj made the offerings to the fire, while Vaishnavas chanted from the Scriptures and the whole assembly chanted in ecstatic Kirttan. There were auspicious signs in all directions and smiles on every face.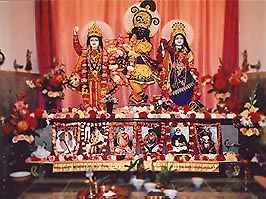 From Their altar, Their Lordships can look out through the specially designed glass wall and across the Baltic Sea. By Vijay Raman Prabhu's arrangement, every day the parikrama party can circumambulate the Deities either outside or inside the building. The worship of Sri Sri Guru Gauranga Radha Madhava-sundar is going on very nicely by the dedication of the local devotees who are serving as pujaries and cooks for Their Lordships.
Several hundred devotees have traveled from many parts of Russia to receive the holy darshan of His Divine Grace Srila Govinda Maharaj here in St. Petersburg and many sincere seekers are coming forward and asking for initiation. Every day Srila Govinda Maharaj is tirelessly meeting with them and giving so much nourishment and guidance for their spiritual lives.
Almost every day over 100 devotees descend onto the streets of St. Petersburg dancing and chanting in Harinam Sankirttan. Sometimes led by Sripad Ashram Maharaj or Sripad Tirtha Maharaj or Sripad Parmahamsa Maharaj, the Holy Names echo throughout the city. One day a very large boat was arranged and the Sankirttan party took the Kirttan up and down the many rivers that flow through St.Petersburg.
This is just a brief account of all the activities of the devotees here. There is so much service going on by so many devotees, I pray they will forgive me for not mentioning them all. Here every day seems like some new miracle occurs.

My dandavat pranams to all the devotees,
-Hasyapriya das