Sri Sri Guru Gauranga Gandharvva Rasabihari
on Their installation day, happily presiding over the Temple and Devotees.

---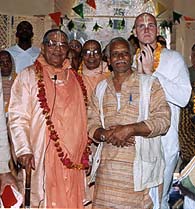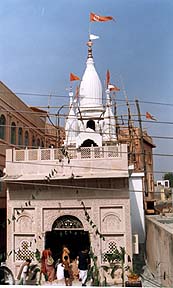 Left: Srila Acharyyadev Srila Bhakti Sundar Govinda Dev-Goswami Maharaj with the sculptor who satisfied him so greatly by manifesting the beautiful Deities.
Right: The magnificent new Sri Chaitanya Saraswat Math stands adjacent to the compound wall (visible on the right) of the Sri Radha-Damodar Temple in the centre of Vrindavan.

---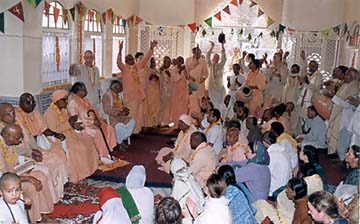 Above: In the bright new Nat-Mandir of our Vrindavan Sri Chaitanya Saraswat Math, Kirttan takes place in grand style.

---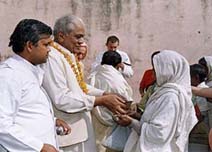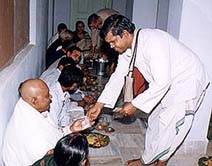 Left: Prabhu Purnananda and Sri Krishna Vallabha distribute Prasadam.
Right: Prabhu Purnananda hands out donations to the visiting Vrajavasis.
---
Next Vrindavan pictures page: Pictures page 2
Earlier pictures of Vrindavan Temple construction