Ý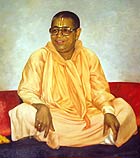 This year, our Teacher's Birthday was on December 28th. You cannot imagine how many people attended our party — eighty-one! Yudhamanyu Prabhu's apartment was so completely full of people, not even a fly could get in. Some guests had to stand on the stairs going down three storeys to the ground floor. Others edged their way into the kitchen, where I spent the whole day cooking. I had a fellow student report to me what was going on beyond my position. The first time I checked out the situation, there were only fifteen students helping us do some service. But what was so amazing was that about a minute later, I tried looking into the room and there was a 'wall' of people blocking my sight. Suddenly, thirty freshmen had arrived by bus from our new campus. Like members of an army they had marched from the bus to the party. Guests were still arriving....
How to handle eighty-one people in such a limited space? The atmosphere was just like bees buzzing in their nest. Yudhamanyu Prabhu took care of every guest. He told them, "Hare Krishna!" He explained the reason for the party, gave a description of the merciful mission of our Teacher and talked extensively about the high level of Krishna consciousness.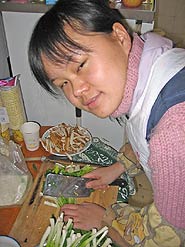 The biggest challenge was how to feed all the guests prasadam, the food offered to Krishna. As I had done in previous Krishna celebrations, I took responsibility for purchasing, preparing, cooking and serving out the food for the program. Even though so many students were eager to help with the cooking, the kitchen is so small that only Ameel and I could handle this duty. There were at least six steps to making each preparation. Fortunately, I had bought plenty of vegetables, so everyone had more than enough prasadam. We all felt so happy to see everyone eating. Prior to the actual feast, I had made my way to the front of the living room where the altar was situated. After I offered the food, I got the chance to be nourished by Yudhamanyu Prabhu's talk and see all the guests singing "Hare Krishna!" Each guest carefully studied a printed introduction of Srila Govinda Maharaj. Yudhamanyu Prabhu's speech was so wonderful because it contained so much information about Krishna. He spoke so much that he almost lost his voice.
We had been preparing for this celebration for at least one week. We tried to have everything ready in advance. Felix, Ameel and I had arrived at Yudhamanyu Prabhu's apartment at nine o'clock the morning of the programme to begin all the day's activities. Yudhamanyu Prabhu had already set up the beautiful altar. We divided our work into three parts: decorating, garlands and cooking. There cannot be any festival without the help of the students. Everyone was so delighted by the celebration.

After the celebration, many people rushed over to Yudhamanyu Prabhu to tell him how great it was. Even those who didn't attend talked about it for days afterwards. Now that the festival is over, I can't believe that it actually happened. Yudhamanyu Prabhu handled everything perfectly. His mission in China is unprecedented and so was this festival. Nothing but Guru's absolute satisfaction can give us a sense of pride in doing what we are supposed to do. On behalf of all the guests who attended the celebration, I would like to say: May our Teacher become healthier and happier every day! HARE KRISHNA
Daisyrani Du,
Jan. 2005
---