With these headlines in the newspaper and a half page story accompanied by photos of His Divine Grace and our devotees on Hari Nama Sankirttan, Milan prepared for the arrival of Srila Bhakti Sundar Govinda Dev-Goswami Maharaj and his entourage of devotees on August 30, 2000.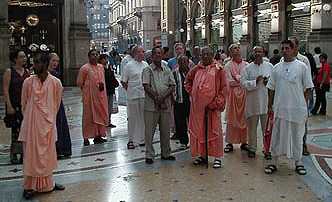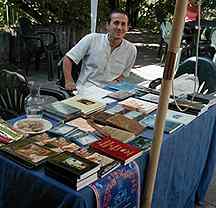 Pictures.
Above, Srila Govinda Maharaj in Milan.
Right: Sri Munindra Mohan Prabhu at the booktable.
Below: The wonderful facilities for the tour in Italy.

Including Srila Govinda Maharaj and the twenty devotees travelling with him, there where over 150 devotees gathered for the Italian Festival -- "Festa Sankirttan!" The Italian devotees headed by Sripad Munindra Mohan Prabhu, Krishna Kanta Devi Dasi and Sripad Mohita Krishna Prabhu, organised a grand programme at a resort named Monte Barro, near Lecco in the foothills of the Italian Alps close to Milan. Many devotees assisted including Sripad Jayanta Krishna Prabhu, Srimati Braja Mohini Devi Dasi and the new initiates Srimati Krishna Kumari Devi Dasi, Adavay Krishna Prabhu and many others.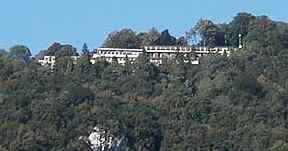 The resort had over sixty private rooms for the devotees with a large meeting room for Kirttans and programmes, two dinning halls and ample kitchen facilities. Devotees came from all over Italy, Germany, England, and many other European countries including 17 devotees and guests from Hungary. Pilgrims also came from farther afield including Mexico and the U.S.A.

Srila Govinda Maharaj was very happy there and all the devotees received so much nourishment from his inspiring words and his transcendental presence. Relishing every word from His Divine Grace, the devotees heard Srila Govinda Maharaj explain the sweetness of The Absolute. Srila Govinda Maharaj spoke many times about the importance of chanting the Holy Names of Krishna and avoiding the ten offences to the Holy Names. He also explained how the Holy Name is so merciful that by chanting, then the Holy Name Itself will help us overcome our offences.

On Sundays many people normally come to Monte Barro to enjoy the beautiful natural environment. But this Sunday due to the numerous favourable television and newspaper reports about Srila Govinda Maharaj, many more guests came and attended the programme there and heard from Srila Govinda Maharaj, participated in Kirttan and took Prasadam. It seemed like everyone in the area had heard about the festival and in a very friendly way they greeted the devotees on the streets, giving them small gifts and waving and smiling at them. Even the local Catholic priest gave a positive endorsement in a newspaper interview.

Srila Govinda Maharaj was extremely happy to see his dear friend Sripad Bhakti Madhur Bon Maharaj who travelled from Rome where he has a preaching centre. Sripad Bon Maharaj was very happy to be there with His Divine Grace and to also see his other friends again after so many years. We were all astonished to see the photographs and drawings of the large temple and ashram that is almost finished near Rome. Sripad Bon Maharaj and only a few devotees have been working tirelessly for over a year on the construction, and expect to have the grand opening very soon.

A public programme was arranged in a yoga centre in Milan. Again the many guests who came were able to have that rare association of a pure devotee: His Divine Grace Srila Govinda Maharaj. One young lady who attended was so moved by the sweetness of Srila Govinda Maharaj and the devotees that she returned to Monte Barro, took initiation, and not only spent the remainder of the festival in Italy with His Divine Grace, but she also travelled to Switzerland with the devotees, to attend the programmes there!

During the festival many other sincere seekers offered so much service and several took initiation including ten guests from Hungary and several from Milan. Now we are seeing the community of devotees in Milan is expanding nicely with the Milan Sri Chaitanya Saraswat Ashram Italia in the centre where Sri Bala Gopal Giridhari is being worshipped by the devotees.

I offer my dandavat pranams to all the Italian devotees and all the world-wide devotees who by their generosity, energy and dedication made this "Festa Sankirttan" so successful!

-Hasyapriya das