The Disappearance Festival of
Spd Rsabhdev Prabhu
in pictures...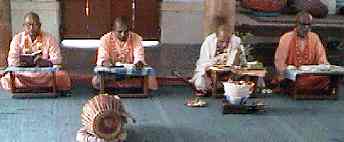 Reading from four Scriptures
Left to Right: Spd Yadhu Gopal Prabhu, Spd B.N. Acharyya Maharaj, Spd Adwaita Das Babaji Maharaj and Spd B.D. Damodar Maharaj.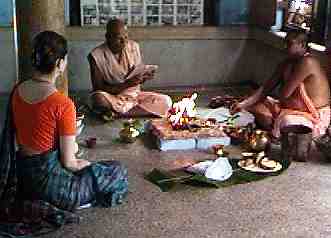 Fire Yajna held by Spd Bhakti Kiran Giri Maharaj and Spd B.A. Paramahamsa Maharaj, with Mandakini present.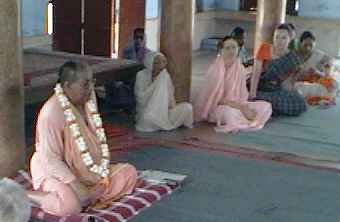 On completion of the reading, yajna and Kirttan, Srila Bhakti Sundar Govinda Dev-Goswami Maharaj begins his lecture -- informal, extensive and beautiful.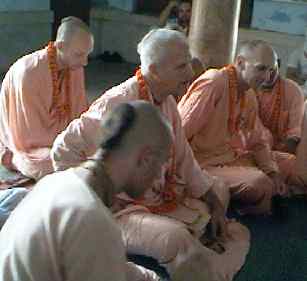 Sripad Bhakti Kusum Ashram Maharaj adds personal insights into Rsabhdev Prabhu's earlier preaching activities within Srila Swami Maharaj's and Srila Guru Maharaj's Missions.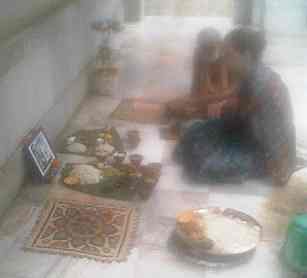 Rsabhdev Prabhu's daughter, Mandakini Devi Dasi, offers her father Maha-Prasadam. Spd B.P. Aranya Maharaj recites the appropriate mantrams.
---

Rsabhdev Prabhu - index | Announcement | Gurudev's grace | Festival and appreciation | Festival pictures | Earlier pictures
---
Math Index | What's New? | Book Table | Calendar
---


URL: http://www.scsmath.com/bulletin/memories/rsabhdev/in_pictures.html
June 21, 2000