The Disappearance Festival of my Father
---
Mandakini Devi Dasi shares the festival in honour of her father, Sripad Rsabhdev Prabhu, held at Sri Chaitanya Saraswat Math, June 20th, 2000.
---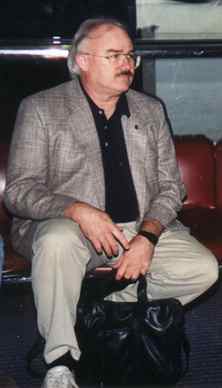 Today's festival began with a fire sacrifice performed by Sripad Bhakti Kiran Giri Maharaj and Sripad Bhakti Amal Paramahamsa Maharaj. They were most kind and helped me through the chanting of mantras and other necessary puja. There were four Vaishnavas reading from Scripture, and this was followed by Kirttan. Then Srila Bhakti Sundar Govinda Dev-Goswami Maharaj began to speak. He spoke at great length in English, and later in Bengali, about Dad's early association with Srila A.C. Bhaktivedanta Swami Prabhupada and his whole-hearted acceptance of Srila B.R. Sridhar Dev-Goswami Maharaj. He then told of Dad's participation in the First World Tour, and how he offered his, "big house with a swimming pool." He remembered how Dad had so many rooms, but slept in the corridor so that all the devotees would have a place to stay. He told of Dad's cooking, and love of all Prasadam. I had Bhakta Bandhu Prabhu use Dad's video camera to record it all.

Srila Maharaj particularly relished telling of Dad's use of very few words. "He was a doer, not a talker," he said many times. Also he imitated Dad's loud way of saying, "YES!" and "YES, MAHARAJ!" He told both in English and Bengali of Dad's work with computers, and how over the phone he could fix someone's computer 400 miles away in ten minutes. Srila Maharaj detailed how Dad was so devoted to the Soquel Math, buying two vans, living in a caravan (trailer), and inspiring so many young people. So many wonderful comments were made about Dad that I can't begin to list them all here, but I have the tape.



Later a letter from Sripad Bhakti Kanan Giri Maharaj was read by Mahananda Prabhu and after that Sripad Kusum Ashram Maharaj spoke of his early days in ISKCON with Dad, and of their joy at serving together. He also did a very good impression of Dad which made us all laugh.

After the Deities were offered bhoga, the plates of Prasadam were then taken to the porch behind the altar and placed in front of a picture of Dad with Srila Govinda Maharaj, taken during the first World Tour. With much help from Sripad Bhakti Prasun Aranya Maharaj I then offered the Prasadam to Dad. Afterwards I took that Prasadam, and a plate was also offered to the cows. While I offered to Dad, the many sannyasis, brahmacharis, and assembled devotees took a huge feast. Daksina was offered to the Vaishnavas, and all who took Prasadam had at least one large mango and a serving of ice cream. In fact, when I visited Maharaj's veranda later in the afternoon, he still had ice cream on the brain. A devotee was asking him on the phone the best way to worship a deity. We heard Maharaj's reply, "Every day you must give flowers, incense, water, and vanilla ice cream." He repeated the part about the ice cream several times, as I think the devotee was quite surprised at first to hear that instruction.

My gratitude to you all

I would like to extend my gratitude to all the devotees who have been writing to me, and also I must apologize for not returning emails in a timely fashion. My work with my father kept me quite busy, and sending or receiving from his computer over the phone lines of Nabadwip has been inconsistent at best.

Special thanks are to be given to so many people, but I shall name a few. Sripad Bhakti Nirmal Acharyya Maharaj arranged so many of the comforts for my Dad in Nabadwip. In Calcutta Mathuranath, Sri Govinda, Nitya Hari, Bhakta Bandhu, and Ashram Maharaj took such good care of my father's every need and desire. Bhakta Bandhu and Ashram Maharaj especially devoted themselves to any task, at any hour of the day or night. Mahananda, Bhakti Lalita, and Sundari helped me with so many outrageous requests, using all of their expertise to accomplish the impossible. In Nabadwip Bhakta Bandhu, Sri Govinda, Chidananda and Ashram Maharaj continued to show their love and devotion by sacrificing their precious time with Maharaj to be with Dad. Other brahmacharis were of very much help, including Isha Bandhu and Gauranidhi. Pushta Krishna Prabhu also continued to give his council and to preach through email, which was much appreciated by Dad.

My Dad was the recipient of countless prayers and good wishes of so many Vaishnavas, family and friends. Seeing all the auspicious circumstances surrounding his departure, and hearing his qualities chanted by the assembled devotees, my heart is soothed. My sincere appreciation to you all.
Mandakini Devi Dasi
June 20, 2000 (evening)
Sri Chaitanya Saraswat Math, Nabadwip
---

Rsabhdev Prabhu - index | Announcement | Gurudev's grace | Festival and appreciation | Festival pictures | Earlier pictures
---
Math Index | What's New? | Book Table | Calendar
---

URL: http://www.scsmath.com/bulletin/memories/rsabhdev/mndkni.html
June 21, 2000