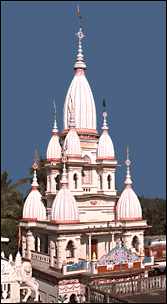 Directions to our Maths in India
(Last updated: 2 January 2015)
This page contains detailed directions on how to reach our main Sri Chaitanya Saraswat Math and other centres in India.

The ultimate destination of most pilgrims is our Main Math in Nabadwip. Whether this is your first time travelling to India or you are an 'experienced' pilgrim, the easiest -- and recommended -- way to get here is to arrive at the Kolkata (formerly Calcutta) airport and go to our Kolkata Dum Dum Park Centre first.

You can rest in Kolkata, honour Prasadam, and continue on your journey refreshed. The devotees at our Kolkata centre will also assist you with your further travel arrangements to Nabadwip if you wish.

If it is your first pilgrimage to our Temples and you would like someone to meet you at Kolkata airport please write in good time, clearly stating the details of your itinerary. It is generally not practical to meet devotees at the railway stations due to the uncertain arrival times of trains and the uncertainty of locating passengers due to the sheer volume of people. Prepaid taxis from the train stations are readily available.
---
Directions to our Maths in India:
Tips for Pilgrims

Welcome!
to our Centres in India
Sri Chaitanya Saraswat Math
---
Tips for Pilgrims to our Centres in:

Humble note for pilgrims:

If you wish to stay more than three nights at our spiritually affiliated Temples in India, please donate there to at least cover the cost of your accommodation and prasad, as these Temples don't otherwise receive extra funding to cover your stay.
---
To Reach the Main Centre:
Sri Chaitanya Saraswat Math,
Sri Chaitanya Saraswat Math Road, Kolerganj,
P.O. Nabadwip, District Nadia, W. Bengal 741302.

i) If arriving in Kolkata (formerly Calcutta) by air:
a) By Taxi: Bartering with one of the many taxi drivers approaching you outside should, at best, get Rs 1,700 per taxi to Nabadwip or Rs2,000 for a Tata Sumo (Indian larger 'Land-Cruiser' style vehicle). It's a 3+ hour drive, and can be bumpy in parts.

b) By Train: First, take a pre-paid taxi to the station. Inside each of the domestic and international airport buildings by the exit is a Prepaid Taxi Booth. Prepay a taxi to Howrah Railway Station (now over Rs 200 and 1 to 2 hours) and take a train (see (ii) below).

c) By Express Bus: Take a rickshaw to 'Ek Number Gate' (Rs 20) then by bus to Nabadwip as in section (iii) below.

d) By Surrender: Simply take a Prepaid Taxi to our Temple in Dum Dum Park, Kolkata, (approx. Rs 140 and 20 minutes), and take their shelter.
ii) By train:
From Howrah Station: 'Good' local trains leave Howrah Railway Station (Kolkata's main station) at 6.35 a.m., 7.55 a.m., 12.20 p.m., 2.35 p.m., 5 p.m., 6 p.m. all these are known as the 'Katwa Local.' They each take over 3 hours, and leave from platform 6 or nearby (ask 3 people). On each of these trains is a coach reserved for ladies.

The best train to Nabadwip is now called the Malda Intercity Express leaving Howrah at 3.15 p.m. Please see the separate, informative first-hand guidelines.

Kamrup Express leaves at 5.35 p.m from Howrah Station. Purchase a general Express Ticket. It usually leaves from platform 9. There is no ladies' coach on express trains. An Express Ticket is required for all express trains.

All unreserved train tickets to Nabadwip Dham from Howrah Station are available in the booking hall to the right on entering the main entrance of the station. Go to the left hand section of windows there (marked 'Eastern Railways Suburban Booking'). Current price: Rs 24 (RS32 Express). Ladies can purchase all 2nd class tickets from the 'Ladies Only' window.

From Shaeldah Station (Kolkata's 2nd railway station): The 'Katwa Local' leaves at 7.55 a.m., stopping in Dum Dum Junction, the nearest station to our Dum Dum Park Temple, at 8.10 a.m.

The Teesta-Torsa Express leaves daily from Shaeldah at 1.30 p.m., usually (but not always) from platform 8.

Tickets for both the above trains are available to the left on entering the Shaeldah Station building, from window 9 and adjacent windows. This express ticket is about Rs 40.

In the evening, a new and good express train is the Radhikapur Express leaving at 7:25pm from Kolkata Station (also known as Chitpur Station). Unreserved coaches are towards the rear of the train, and so far the devotees have always found seats easily.

Arriving at Nabadwip Station, many rickshaws are available. They know our Sri Chaitanya Saraswat Math as 'Kolerdanga Math' or 'Kolerdanga Jol Mandir'. Bargaining will bring the price to Rs 15 at best.
N.B. A good tip to bargaining is to have the amount you are ready to spend in your hand and show it to the rickshaw man when setting the price and perhaps say that you don't have any more, it reduces bargaining to almost zero.
iii) By bus:
Express buses are generally fast but having anything more than hand baggage can be a problem. They all pick up passengers at 'Ek Number Gate' near the airport, a 10 minute walk or Rs 20 rickshaw ride from the Airport, and at 'Ultadanga' – each is at the opposite end of V.I.P. Road which runs near our Kolkata Ashrams. Take any express bus (approx. Rs 40) that stops at Krishnanagar (commonly: the buses going to Bhorampur or Malda). Get down at 'Krishnanagar High Road' on the by-pass of Krishnanagar, most buses stop here for refreshments. Walk 500 metres onwards and wait at the first turning left for a local bus going to Bablari (Rs 8), or any Express Bus going to 'Nabadwip Rail Gate.'

After 10 kilometres Sri Chaitanya Saraswat Math is clearly visible on the right as you cross 'Gauranga Setu' the big bridge spanning the Ganges. The local bus will then stop at 'Ghosh Para,' from which it is an obvious short walk to the right (5 minutes). Express buses stop a little further on, at the Rail Gate. Walk (10 minutes) or take a rickshaw for Rs 10+.

Please note that from Krishnanagar don't take the bus to 'Nabadwip Ghat' or you'll end up on the opposite side of the river from Nabadwip town. From there a boat to Nabadwip (Rs 2) then a rickshaw to the Math (Rs 20) will be necessary – a much longer route.

For leaving Nabadwip, please see note (iv) below.
iv) Driving by car.
With the opening of a new bridge crossing the Ganges on the edge of Kolkata, and improvements of roads on the west side of the Ganges there are now two different and practical ways to drive to Nabadwip.
If you are driving here, or if your driver isn't sure of the way, the following directions may be helpful:

- a) NH2 - the newly practical route (west side of the Ganges)
Although this journey is 25km longer, the road condition is sometimes much better than the traditional route and traffic congestion is much reduced. A map and full description of how to make this journey is available as a 'gif' image file, as well as a pdf information sheet.
- b) NH34 - via Krishnanagar (east side of Ganges)
Take NH 34 (National Highway 34) from Kolkata. It's the main road passing alongside the airport and heading up to Barasat and Krishnanagar (where we turn left to Nabadwip) and onwards all the way to Siliguri and N.E. India.

About 2+ hours after leaving Kolkata: just after the Santipur bypass the NH 34 crosses a railway level-crossing. After a further 12 km, on the Krishnanagar bypass the road again crosses this same railway. Immediately at that level-crossing turn left along the minor road. Take the first left (after about 300 metres), again cross the railway tracks, and continue straight owards to Nabadwip town.

Just before reaching Nabadwip, this road crosses the large 'Gauranga Setu' bridge over the River Ganges, from which our Temple is clearly visible diagonally to the right nearby. 500 metres after crossing the bridge, there are speed bumps across the road. Pay the bridge toll at the booth on the right (about Rs 5). Then, to get to our Temple, it is necessary to enter the narrow roads of Nabadwip town:

After paying the bridge toll, continue 100 metres and take the first turn right. After 100 metres again take the first right. Follow this, keeping to the principal road which goes through a small congested market, then slightly downhill and then takes a 90 degree turn right. Then reaching a 'T-junction' turn right and follow this straight to our Temple, known locally as 'Kolerdanga Math' of 'Jol Mandir' ('Water Temple' due to the now famous Temple in Sri Govinda Kunda).

It is quite straightforward, but along the way if you need reassurance you're on the right route, then on leaving Kolkata ask locals the directions to the following:

First: Ask for Kolkata Airport, then NH34 to Barasat, then Krishnanagar and keep to the bypass.
Then: Ask for Nabadwip Town, via 'Gauranga Setu' bridge over the River Ganges.
Then: After crossing the bridge, ask for 'Kolerdanga Math' or 'Jol Mandir.'
Then you're home!

---
Sree Chaitanya Saraswata Krishnanushilana Sangha
487 Dum Dum Park, Opposite Tank No.3, Kolkata 700055.


and our Western devotees' guesthouse and address for mailing:

Sevak Bhavan
491 Dum Dum Park, Opposite Tank No.3, Kolkata 700055
Tel:+91 9007839853
i) By taxi:
Take a taxi and simply ask for '487 Dum Dum Park off Jessore Road.'

If coming along Jessore Road from the city, it's the first turn right, after the 'Bangur Avenue Bus Stoppage' on Jessore Road.

If coming along Jessore Road from the Airport (via Nagar Bazaar) it is the first turning left after the Shelly Cinema (which is on the right), about 1.5 km after Nagar Bazar.

After turning off Jessore Road, our Ashram is just 150 metres along the road. It is on the right at the very first junction which also happens to be on the first corner of the first pond (Tank Number Three, or translated: Teen Number Tank).

If coming from the airport or from Howrah Station use the Prepaid Taxi Booths. From either place it is currently about Rs150 even at night. If you're experienced at bartering or you know the route, then you may get a better deal by taking a regular meter taxi. Not advisable for first time visitors, be assured.

Except from the Prepaid Booths, the official meter rate for taxis in Kolkata is usually greater than what's displayed because fare increases happen more often than the meters are upgraded. The drivers always carry a card displaying the conversion rates. As of April 2012, it is double the charge shown on the electronic meters.
ii) By bus (to our Dum Dum Park, Kolkata Temple):
From the Airport

Take a rickshaw (Rs 20) to 'Ek Number Gate,' turn left and take a bus (Rs 4) to 'Bangur Avenue bus-stoppage' on Jessore Road. From there it is a 5 minute walk following the directions given in the preceding section.

From Kolkata city

Bus number 219 goes directly from Howrah Railway Station to Bangur Avenue bus stop on Jessore Road (Rs 8). Alternatively, and from most places in the city, take one of many buses going to Shyam Bazaar – a major junction with a huge statue of a horse in the middle of it. The horse wants to go up Jessore Road. Take one of the many buses up that road which declare they are going to Nagar Bazaar. Get down at 'Bangur Avenue' bus stop (15 minutes), then follow the directions given in section (i) above.
iii) By boat:
During the day (but NOT on Sundays or bank holidays) a boat goes every 20 minutes from outside Howrah Railway Station to Bag Bazaar. Buy a ticket at the booth before going onto the jetty. (Currently Rs 3). The launch runs: Howrah to Bag Bazaar departing from 7 a.m. to 8 p.m.

And: Bag Bazaar to Howrah departing from 6.50 a.m. to 7.20 p.m.

From Bag Bazaar take a taxi to our Dum Dum Park Temple (approx. Rs 60 by meter). Alternately take a hand pulled rickshaw (for Rs 10) or a shared motor rickshaw (Rs 6) to Shyam Bazaar 'Bata.' Then take a bus as described in section (ii) above.

If you're going from Dum Dum Park and want to take the boat to Howrah: take a bus to Shyam Bazaar, then a rickshaw (Rs 10) from outside Bata shoe shop to 'Bag Bazaar Launch.' Alternatively a taxi can take you directly to the launch from the Ashram (approx. Rs 60).
The Metro (underground railway):
The Metro is the name for the underground railway in Kolkata. The nearest stop to Dum Dum Park is Belgachia. From there take a shared auto-rickshaw (Rs 7) to Bangur Avenue. Also many buses go this way (Rs 4) and they are safer. Then it's a short walk following the directions given above.
iv) Coming from Nabadwip to Kolkata:
In the morning there are five 'good' direct trains from Nabadwip to Howrah: 4.18, 5.20, 6.14, 6.53 and 7.31, reaching Howrah by 8.00 a.m. to 11.00 a.m. depending on which train you catch. A good express train now leaves from Nabadwip daily at 10.25 a.m. except Sundays.

Please see the timetable of trains *from* Nabadwip.

The Malda Intercity Express leaves at 10.25 a.m. Please see the separate, informative first-hand guidelines.

By bus from Nabadwip: turn right when coming out from the Math's main gate. Walk 100 metres, go up onto the small bridge and take any bus that crosses the big bridge. Get down at 'High Road' then walk to the Express Bus Stand nearby to the right. Take any express bus to Kolkata. Get down at 'Ek Number Gate,' then take a bus to 'Bangur Avenue Bus Stoppage' on Jessore Road, and follow the directions given above.

---
Sree Chaitanya Saraswata Krishnanushilana Sangha
Kaikhali, Chiriamore, (near Kolkata airport),
P.O.: Airport, Kolkata, Pin 700052.

At present this is principally a preaching centre for the Indian devotees. A grand Temple, nat-mandir and facilities are fully functional, and beautiful Deities installed. For those who wish to visit: from the airport a rickshaw should cost just Rs 30. If coming from Kolkata, any local bus that goes to the Airport or 'Ek Number Gate' via V.I.P. Road stops at Kaikhali. Then walk for 7 minutes along the only road to the right. Our Sangha is directly opposite you as the road takes its first sharp bend to the left.

---
Srila Sridhar Govinda Sundar Bhakti Yoga Cultural Centre
Chuna Mandi, Pahar Ganj,
New Delhi 110055
Please phone: +91 9810309511

Currently (December 2012) we are no longer able to provide accommodation at our Delhi registered centre. The relocation of our active preaching centre is expected to be completed presently.

Tips for Delhi. Pahar Ganj, opposite the main entrance of New Delhi Railway Station has abundant cheap hotels (Rs500 per double room upwards).
From the airport either take a prepaid taxi (about Rs250), or:
The very efficient Delhi Airport Express Metro is due to reopen in January 2013 after being closed for repairs. For Rs 80 it goes between the International Terminal at the airport and New Delhi Railway Station in just 20 minutes. Check their website delhiairportexpress.com for further information.

---
Sri Chaitanya Saraswat Math and Mission
113 Sevakunj (re-numbered from 'No.96' in January 2012), P.O.: Vrindavan, District: Mathura, Pin 281121, U.P.
Tel: +91 9811301514

If arriving by air, then the economical but also the safest way to reach Vrindvan is to go to New Delhi Railway Station, take a train to Mathura, then an auto-rickshaw to our Math.

The very fast and modern Delhi Airport Express metro connects Terminal 3 with New Delhi Railway Starion. However, it is closed for repairs until at least December 2012. See their website delhiairportexpress.com for further details.

Take an air-conditioned bus from outside the terminal to New Delhi train station (about Rs70) or a prepaid taxi to the front entrance of New Delhi railway station (about Rs300).

By Train from Delhi: Take one of the frequent trains from New Delhi to Mathura Junction. It is definitely better to get a reservation, and practical too. If you can, book a seat in advance, but if you don't already have a reservation and just turn up at New Delhi Station, this should help:

At New Delhi station there's a clearly marked 'Enquiry' counter to the right of the main front entrance (the Pahar Ganj side). Ask the time and names of the next *two* express trains to Mathura Junction. Get a reservation form from beside the "Current Booking" counter just to the right of the Enquiries. Fill up the form and get your ticket there at the Current Booking counter. This almost always works, because many people get on at Mathura, so there are spare berths/seats from Delhi to Mathura. You'd be unlucky not to get a reservation in one of the next two trains in one of the classes.

Otherwise you need to ask where to buy the unreserved tickets, it's to the left of the main entrance, then get a "Superfast" ticket to Mathura Junction. This lets you board any express train (except Rajdhani) but in the unreserved coaches only.

Here is the current express timetable for Delhi to Mathura, as of September 2012 (NDLS = New Delhi. MTJ = Mathura Junction): 180 K, pdf Acrobat Reader file.

See indiarailinfo.com for all current timetables in India. No need to log in, just fill in the 'From' and 'To' boxes at the top.

From outside Mathura Junction railway station take a three-wheeled auto-rickshaw to Vrindavan for Rs 150 (or less) without sharing, directly to our Math.

However, it's just Rs 11 from Mathura Station to the bus station in Vrindavan if you're prepared to take a shared autorickshaw (sharing with many). From the bus stand in Vrindavan ask directions to the Sri Radha Damodar Temple, near Loi Bazaar. Be prepared to pay Rs 20 for a bicycle rickshaw.

Approaching the Radha Damodar Temple from the direction of Loi Bazaar, turn left just before the Radha Damodar Temple. Our Math is clearly visible on the right after a few yards.

Alternatively, from outside Mathura Junction railway station take a public bus all the way to Vrindavan bus station (Rs11). Then follow the directions given in the last paragraph.

By Taxi from Delhi: Arrangements can be made outside Delhi Airport or Delhi Railway Stations for a taxi to Vrindavan for Rs 2000+. The 130 km drive takes about three hours. When bartering for a taxi, be sure to be clear that all road toll taxes are included in the price.

By Bus from Delhi: From Delhi Airport take a shared auto-ricksaw for Rs 40 to the Kalekha Bus Stand from where buses go to Mathura each half hour. Kalekha Bus Stand can be reached from Delhi Railway Station by using a prepaid auto-rickshaw.

---
Srila Sridhar Swami Sevashram
Dasbisa, P.O. Govardhan, Dist. Mathura, U.P. 281502.
Tel: +91 7830168759

First get to Mathura. Then a rickshaw from the Railway Station to 'New Bus Stand' (Rs 10). Then by bus to Govardhan (40+ minutes journey). Get off at Govardhan bus station. Continue walking along the main road. Turn first right under a large archway, then after 50 metres go diagonally first right along a very minor 'road'. Our Sevashram is 50 metres along on the right, a total of less than 10 minutes walk from the bus station.

If somehow you can't find it, ask any local person for 'Howallagully' near 'Bikharner Dharamsala'.

---
Sri Chaitanya Saraswat Math


Bidhava Ashram Road, Gaur Batsahi, P.O. Puri, Orissa 752001,
Tel: (06752) 231413 and +91 9937479070

The devotees there require you to have a letter of introduction from the Nabadwip Math. Puri is an 11 hour train journey from Kolkata. Two overnight trains leave each evening and there's a very good daily train, the Howrah Puri Duronto Express each afternoon at 2:25pm. (See tickets.html for finding trains, making reservations, etc.).

There are is a good express train, the 'Dhauli Express', departing daily from Howrah at 6 a.m. going to Puri.

Many, many trains go to Puri and to nearby Bhubaneshwar from where you change to a local train to Puri or take a bus or taxi (1+ hours). See indiarailinfo.com for fuller information.

Express trains also go from Delhi to Puri and vice versa. They take about 36 hours.

From Puri Railway Station take a rickshaw (Rs 20) or a motorised 'auto-rickshaw' for Rs 35 to our Math – Sri Chaitanya Saraswat Math, Gaur Batsahi. Our Math is near 'Hotel Raj' and 'Hotel Ganapati'.

'Sevak Bhavan' is the name of our guesthouse there. It is directly behind our Math on the next road over, called 'Hotel Prachi Road.' It's the same distance and price from the railway station.

---
Sri Chaitanya Saraswat Ashram
Village and P.O. Hapaniya, Dist. Burdwan, W.B.

Hapaniya is Srila Bhakti Raksak Sridhar Dev-Goswami Maharaj's holy Appearance Place and is located about 25 kilometres from Sri Chaitanya Saraswat Math, Nabadwip. From the Nabadwip Math take a rickshaw to Hemadpur (Rs 20), then any Katwa bound bus (it's to the right). Get down at Bordanga – a minor stop, the 2nd stop after the village of Chatny. Our Math is in Hapaniya – the 2nd village, a walk of 2 kilometres down the road to your left.

By train, for the adventurous. Get down at Patuli Station. It is at least 3 kilometres to your left and slightly behind you across the paddy fields. (First ask directions through the fields to Bordanga, then follow the side-road to Hapaniya.)

---
Sri Chaitanya Sridhar Govinda Seva Ashram
Village: Bamunpara, P.O. Khanpur, Dist. Burdwan, W.B.

Bamunpara is the present name for the originally named village of Brahmana-Para. This is the holy Appearance Place of Srila Bhakti Sundar Govinda Dev-Goswami Maharaj. It is 40 km from Nabadwip but to make this pilgrimage by public transport is a mini-adventure. Renting a small car to go there will cost around Rs400. Enquire at Sri Chaitanya Saraswat Math, Nabadwip.

If you travel light you can go by local bus. Walk or rickshaw to Nabadwip rail gate. Buses every 30 minutes to Kushumgram for Rs15. At Kushumgram take another bus to Putsuri for Rs5. At Putsuri take a shared auto rickshaw for Rs5 to Bamunpara Sri Chaitanya Sridhar Govinda Seva Ashram. Market days are Friday at Bamunpara, and Wednesday and Saturday at Putsuri. The nearest bottled water is at Kushumgram but only 5 liter's.

Returning, there's an early morning 4:50am bus from Bamunpara direct to Kushumgram. At Kushumgram 10 minutes wait for Nabadwip bus. Or bus from Bamunpara at 8:40am direct to Nabadwip.

---
Sree Chaitanya Saraswata Krishnanushilana Sangha
Garbhabas (Ekachakra Dham), Post Office: Birchandrapur,
District: Birbhum, West Bengal, PIN 731245.

Ekachakra, the holy Appearance Place of Sri Nityananda Prabhu, is also quite out of the way but there is a daily bus leaving from outside Nabadwip Railway Station at 4am daily. It takes about6 hours to reach Birchadrapur. Once there, ask for 'Nityananda Bari' (Appearance Place), then continue straight along that small road. Our Temple and Ashram is readily visible from there. It is a short distance further on the right.

A direct bus goes from Birchandrapur back to Nabadwip at 11:15am daily.

By train from Kolkata. Express trains from Kolkata to Rampurhat (see our Booking Train Tickets page). A taxi from Rampurhat to Birchandrapur should cost no more than Rs400 and takes about 45 minutes. Autorickshaw should be no more than Rs300.
Alternatively can take a shared auto to the famous local tourist spot, Tarapit. Then a further shared auto for Rs20 each to Birchandrapur.
---
For more information, please enquire by email, or write to this address:
Sri Chaitanya Saraswat Math,
Sri Chaitanya Saraswat Math Road,
Kolerganj, P.O. Nabadwip,
District Nadia, West Bengal,
PIN 741302, India.

---
Pilgrim Index | Math Index | Math Home | Math centres | What's New?
---

Sri Chaitanya Saraswat Math, Nabadwip
http://scsmath.com